NEWS
Catching up with Katy Perry...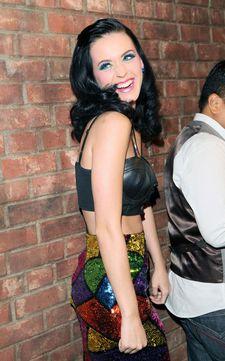 I've been remiss in writing over the holiday weekend…
Today is my birthday so I have a full day of work and play planned, but here's a conversation I had with Katy Perry at blogger Markus Molinari's bday extravaganza at h.wood last week.
What are you wearing?
It's all vintage. I got it today at Shareen (a really cool vintage store in LA). I went there this morning and I found this and threw it together.
Article continues below advertisement
Love the blue glittery eye shadow…
I did my makeup a little crazy tonight. This is one of those nights where I don't have to play it safe, even though I never do, but tonight is a night I can be crazier.
Whats your favorite thing about being on the road? (Katy left for Japan 48 hours later)
When I'm on the road for my shows I love all of the kids at the concerts who have been anticipating it for weeks. I love how they plan out their outfits and they've had their tickets maybe for a week or a month, so they've been building up to it and standing outside in line for hours. It's really, really flattering. It's great because it's the cheesiest feeling, but the best feeling when the kids sing so loud that you don't have to sing.
What do you miss most about home when youre on the road?
My cat, Kitty Purry.
What are five essentials you take on the road?
Laura Mercier Camaflouge concealer.
Woolford tights, I always have those,
Minx nails. I peeled them off today but I usually wear Minx nails.
La Mer lipgloss, which was a gift because I would never buy that for $150 dollars.
Tarina Tarantino studs, she makes them in every color under the sun.
Article continues below advertisement
You dance in your show every night on the road, but do you have a work out you do on the road as well to fit into outfits like this?
When I want to get in shape, I jump rope. It's rhythmic and it's so easy and I can listen to music while I do it and I can jump rope for a half an hour straight. Its really exciting.
What do you listen to when you work out?
Madonna. There's so much to listen to but Madonna is so inspiring. She's like the energizer bunny and one-ups everybody, and she's 50. I think, wow, if you can do it, I can do it.
Who's a powerful woman in Hollywood you look up to?
I guess I would say Angelina Jolie because she went from the blood vile wearing, Billy Bob Thornton dating girl to the Brad Pitt-loving, child-adopting woman that she is. It shows that everyone can make a full circle.
Best advice?
Mystery is history.