NEWS
Catching Up With...Jenna von Oy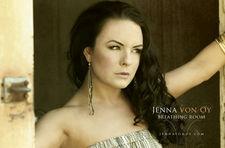 The typical 5-year-old is still trying to master simple nursery rhymes and children's tunes. on the other hand? She was writing them herself.
"I was actually 4 or 5 when I wrote the song," Jenna tells OK!. "It's hilarious. I'm like so a little kid, but there is also the grown-up Jenna somewhere in there. You can see my type-A personality coming through because I clear my throat and go, '"Little Pollywoggy," written and composed by Jenna von Oy.' Now how a 5-year-old knows the word 'composed,' I'll never know, but yeah, that's the first track on my album."
Article continues below advertisement
Album? Yes, the actress best known as fast-talking Six on Blossom has ventured into music. Breathing Room, a blend of "country/pop," as Jenna describes it, was released on Tuesday, fulfilling a lifelong aspiration for the 30-year-old, who had to put her music dreams on hold as her acting career took off.
Having been singing "all her life," the petite brunette first toyed with the idea of an album 10 years ago after descending upon Nashville but didn't decisively pursue it until a year and a half ago. Collaborating with friends and producers and , the labor of love is "about all of the transitions I've been though in the past couple of years."
"I just finally got to the point in my life where I felt I had the perspective as a writer to be able to do it and not just be singing other people's words and to be writing my own, and knowing that everything I said was raw and honest and from the heart."
The tunes cover an array of emotions, some dark, some light and some deep, including "Little Pollywoggy."
Don't be mistaken — the song, which was faithfully copyrighted by Jenna's dad in 1983, isn't merely about a baby tadpole but, rather, it's a metaphor about the shift into adulthood. "It's about this little pollywog that is waiting to see what spring will bring and ultimately he finds out that once he turns into a frog that the spring brought rain… My friend said, 'It's crazy how could you have known as a child that you go through life and you become an adult and there's rain," she says.
Article continues below advertisement
Jenna released Breathing Room independently on her own record label — Little Ladybug Records, which pays homage to a childhood nickname from her grandmother — and plans to play at small scale venues in support of it.
That doesn't mean she's done with acting. The star, who also appeared on The Parkers, is considering a few projects and would like to get into hosting too, so don't be surprised to see a familiar face on screen soon. Just don't scream out "Six!"
"That's my past and I'm proud of it, and I wouldn't change it for anything, but I kind of wish people would let me grow up in their eyes. It's easier said than done," she says, adding that fans have gradually been calling her by her real name in the last few years.
Regardless of what she's called, Jenna looks back on her sitcom days fondly. The cast members have each gone their separate ways but run into each other every now and then, which is "so funny because everyone almost feels like a stranger."
Article continues below advertisement
In between the random cast run-ins, acting and making music, the Connecticut native finds time to unwind with a good book, an episode of Grey's Anatomy, painting and cooking — her third passion. After honing her skills abroad and with a gourmet chef for a dad, Jenna has hopes of being the next Food Network star too.
"I want to continue writing and I want to continue singing. I'd love to be able to do a couple more albums and a couple more shows and some films and sell my painting and have a cooking show and all of it. I want to do it all."
But for now, the album is more than enough.
"I hope people enjoy it. I hope that it means something to people," Jenna says. "There's that part of me that's so proud that I put myself out there. It was the opportunity to say some things that I needed to get out and music is a very raw expression of things that you can't necessarily express when you're acting, so it gave me that ability to do that."
For more on Jenna and her music, check out her official site and her MySpace.