NEWS
Cate Blanchett: Marriage is a Risk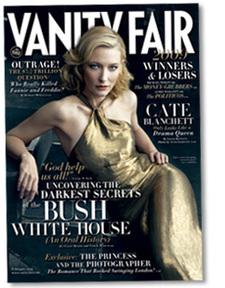 Marriage and relationships can be hard enough, but at least in real life, unlike Cate Blanchett's character in The Curious Case of Benjamin Button, you usually age along with your loved one, instead of in the opposite direction.
"If you age with somebody, you go through so many roles—you're lovers, friends, enemies, colleagues, strangers; you're brother and sister," she reveals to Vanity Fair of her 11-year marriage with playwright Andrew Upton. "That's what intimacy is, if you're with your soulmate. Marriage is a risk; I think it's a great and glorious risk, as long as you embark on the adventure in the same spirit."
Article continues below advertisement
Cate digs deep into her feelings on the film in the interview, which she thinks deals with death in a positive manner.
"We've enshrined the purity, sanctity, value, and importance of bringing children into the world, yet we don't discuss death. There used to be an enshrined period where mourning was a necessary part of going through the process of grieving; death wasn't considered morbid or antisocial," she says. "But that's totally gone. Now we're all terrified of aging, terrified of death. This film deals with death as a release. I hope it's a moment of catharsis."
The 39-year-old mother of three, who lost her father when he was only 40, admits that she was relieved when her own husband passed that age, and says "the presence of death can coexist in life. I just don't take things for granted. I know that time is very short."
"When my husband turned 40, I was obsessed," she adds. "Has he had his medical checkup? He needed to go to the doctor; he needed to go to the dentist. Any little cough, I was really on him. Then he turned 40, and I thought, Maybe that's why I've been so obsessed with his health!"
As for her own inevitable aging, the stunning actress says she won't be going under the knife any time soon.
"But I'm not a spokesperson against the world of injectables. If you grow up in an environment where your mother gets you a boob job when you turn 18, what hope is there? But I didn't grow up in that world. The reason I went to train as an actor was that I was interested in it for the long haul. You can become very self-obsessed, but you've got to keep looking outward."