NEWS
Catherine Zeta-Jones Gets Treated for Bipolar Disorder; Michael Douglas Talks to OK!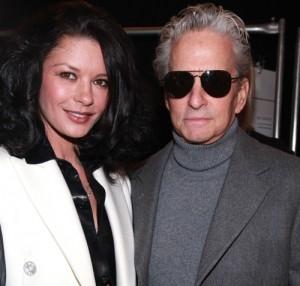 After standing strong by husband Michael Douglas through his battle with throat cancer, Catherine Zeta-Jones decided to seek mental health treatment for herself. Now it's Michael's turn to support his wife of 11 years. Just last night, OK! talked to Michael in an exclusive interview about their love.
"I think you just spend the effort and time and don't take each other for granted," he told OK!. "That probably is the most important thing."
Article continues below advertisement
CeCe Yorke, Catherine's publicist, confirms to OK!, "After dealing with the stress of the past year, Catherine made the decision to check into a mental health facility for a brief stay to treat her Bipolar II Disorder. She's feeling great and looking forward to starting work this week on her two upcoming films."
Michael's rep had "no comment" in regard to Catherine's stay at the mental health facility.
The Oscar-winning actress reportedly checked into Silver Hill Hospital (below) near New Canaan, Connecticut, on April 6.
Catherine is set to star in the independent feature film Lay the Favorite alongside Bruce Willis, Justin Timberlake and Rebecca Hall, which will begin shooting May 11th for 25 days in New Orleans, and Michael and the kids will join her on-set.
Article continues below advertisement
Michael shared that he and Catherine find the best dates are when they can just relax together.
"We're fortunate it doesn't have to be like a date night," he told OK! at Carnegie Hall's 120th Anniversary Celebration in NYC. "When you have two kids, you know it's a little more limited, but we're homebodies."
Michael announced in January he was declared cancer-free by his doctors after a six month battle with chemotherapy and radiation for a tumor on his tongue.
Reporting By Jessica Summers