NEWS
CBS Pres. on Charlie Sheen: "I Wish He Worked This Hard to Promote Himself for an Emmy"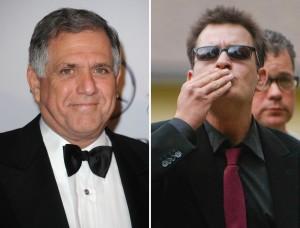 CBS president Les Moonves is speaking out amid the ranting media firestorm that is Charlie Sheen. The network head isn't taking it easy on the 45-year-old actor, jabbing right back and discussing the future of the hit CBS sitcom Two and a Half Men (ratings are up!).
"Charlie is on the air quite a bit these days. I wish he would have worked this hard to promote himself for an Emmy," Moonves quipped about Charlie's current publicity tour, slamming CBS execs and introducing the world to his goddesses.
Article continues below advertisement
The repeat Monday night was the fourth-highest rated show of the night, according to THR.
Even though ratings are high, Moonves doesn't want the pandemonium to persist.
"I'm not saying long-term I want this to go on," he added.
"Going down the road... I don't know what's going to happen," he admitted. "I hope it's back. We'll see."
Do you think Men will ever be the same? Will Charlie and CBS reconcile?