NEWS
Cee-Lo on Gwyneth Paltrow's "Forget You" Performance: "I Missed It"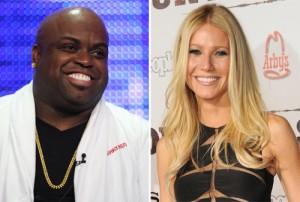 Gwyneth Paltrow is already getting Emmy buzz for her rendition of Cee-Lo Green's hit song "F**k You!" on this week's episode of Glee, but there's one person who missed her performance – Cee-Lo!
OK! NEWS: GWYNETH PALTROW'S "FORGET YOU" NO. 1 ON ITUNES; RETURNING TO GLEE
"I didn't see it, I overslept," Cee-Lo Green admitted to OK! at the launch of Absolut Vodka's limited-edition Glimmer bottle on Nov. 17 in NYC. "I missed it. I took a nap because I had gotten up earlier that day, 5 a.m. to do (Good Morning America) and by the time I got back to my room I took a little nap. I tried to set my alarm to see it."
Article continues below advertisement
It was only recently Cee-Lo found out it would be the Oscar-winning actress singing his song as opposed to one of the series regular singing pros, with a PG-version, "Forget You."
"That was a very, very pleasant surprise," he tells OK!. "It was awesome!"
GLEE CAP: GWYNETH PALTROW IS "THE SUBSTITUTE"
As for any nerves about Gwyneth having the vocal chops to do his hit melody justice, the former Gnarls Barkley singer says he was worry-free.
"There's a humanity in that that song," he explains. "It's flawed in a very perfectly imperfect kind of way. I mean, so if she had to put her own little quirk into it, it would've been just fine. It's a quirky song as it is."
So basically, if Gwyneth messed it up, it'd be all right?
"She couldn't mess up. It's no more messed up than the situation I was singing about. She can't mess it up anymore than that."