NEWS
Gwyneth Paltrow's "Forget You" No. 1 on iTunes; Returning to 'Glee'?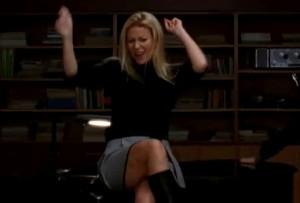 When Darren Criss' Glee cover of "Teenage Dream" hit No. 1 on iTunes he was made a Glee regular, so will the same hold true for Gwyneth Paltrow?
OK! NEWS: GLEE CAP — GWYNETH PALTROW IS "THE SUBSTITUTE"
Last night's Glee episode starring Gwyneth pulled in 11.6 million viewers in early ratings according to E! News, which is the highest since Britney Spears.
And Gwyneth's cover of Cee-Lo's "Forget You" has already hit No. 1 on iTunes!
Article continues below advertisement
Now the Gleeks want to know, will we get to see and hear Gwyneth again?
"Gwyneth and I want her to come back," Ryan Murphy told E! News. "It depends on the story...I love her."
OK! NEWS: LINDSAY LOHAN'S FAMILY NOT HAPPY WITH GLEE?
Well, it looked like a storyline could easily be developed between Gwyneth and Matthew Morrison's characters. What do you think?
Gwyneth's already getting some Emmy buzz for her performance, so she's already got that going for her too!
Watch Gwyneth's "Forget You" Glee performance below!