NEWS
Celeb History Buffs Enjoy 'John Adams' Premiere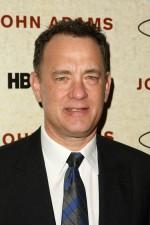 Tom Hanks, Paul Giamatti, Ed Westwick, Ashleigh Banfield and Bob Balaban share their love for history during the HBO miniseries premiere of John Adams held at NYC's Museum of Modern Art.
Tom approaches me. "OK! magazine, what hard-hitting issue do you want to slam me with?"
Well, why choose to executive produce a film about John Adams?
"John Adams should be on our money!" the show-boating actor tells me. "He should have a bill of his own. When John Adams was sworn in as the second president of the United States, it was the first time a non-relative was handing over control of the country without the death of a relative or bloodshed in the recorded history of human kind. Now that's an extraordinary story. Plus, I like cornered hats, powdered wigs and belt buckles on the shoes."
Article continues below advertisement
Paul, who plays the title character, quizzes a VH1 reporter. "How old do you think I am? 57 right? Going gray. How do I hide my age? I can't! I don't try to hide it. It's too much work. I'm 40. You thought older?"
Ed struts through. "I love history," the Gossip Girl guy says. "I think that's where we learn from our mistakes. It's important." While American history isn't his bag, this Brit keeps busy with English history. "We've got 2,000 years of it," he yuks.
David Morse plays George Washington in the miniseries, which also stars three-time Oscar nominee Laura Linney. What did he learn about GW? "Everybody who has been to Mount Vernon has seen those teeth," he tells me. "It's just horrible what he had in his head. It was this horrible contraption with springs on it and little carved teeth. It's just sad that they had this man walking around trying to eat and speak. It's no wonder he didn't talk very much because he'd have to reveal this horrible thing in his mouth."
Article continues below advertisement
The actor says Tom loves to play around on the set.
"He'll play in front of anybody, and he's totally unembarrassed about it. He'd really do embarrassing things, and make us do embarrassing things with him. We'd be doing a very serious scene, and he'd say, 'When I get to this line, we're all going to just fall down on the floor.' We were like hesitant, 'Okay, we'll be watching you.' Then he'd get to that line, and here he goes, so we all go down on the floor. When you're working long hours, people appreciate a little silliness."
Justin Thoreaux slides through wearing his ipod as Ashleigh rolls up. Who is her favorite historical character?
"It's gotta be Jesus Christ," she tells me. "Not because I'm religious but I'm just fascinated by this incredible story and how prolific it is. What other historical figure has made its way into the annals of that many people's minds? But if you're talking about U.S. history, Abe Lincoln is my favorite because he was one of our least experienced presidents and yet one of our most famous and most effective. He was sandwiched between two presidents that actually had the most experience and were the least effective."
Article continues below advertisement
Here's Bob, the actor who happens to play a therapist in a gazillion flicks. "No, no," he corrects me. "I play professional people who seem intelligent. I play doctors, lawyers, psychiatrists and prosecutors a lot. Not because I'm especially intelligent, but I wear glasses. I was Linus in the original You're a Good Man Charlie Brown, which is like a therapist or a doctor or a lawyer. Just because I'm geeky looking, I wear glasses and I have a beard and people think I'm professorial… but I'm not. I wish I were, but I'm not at all."
Hey look, it's Peter Gallagher, the dad from The O.C., racing in at the last minute while Tom playfully labels pushy photog Steve Sands "trouble" while posing for a pic.
The seven-part miniseries John Adams begins airing on HBO this Sunday at 8 p.m./7 p.m. Central.