NEWS
Celeb Oscar Speeches That Make Us Laugh and Bring Us to Tears!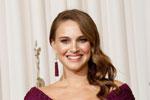 Some start it off with a joke that leaves us with no other texting term more appropriate than ROTFL. Others can't keep their emotions inside and cry the minute their name is announced—and rightly so!
OSCARS 2014: We're Live Blogging! Read Along Here
We're talking about the best Oscar acceptance speeches. A winning 120-minute movie role equals only a few minutes on stage before the music cues the winners to step down. The time limit is tiny, but that doesn't mean these stars aren't thankful!
Article continues below advertisement
Check out a few of our absolute favorites!
1. Tom Hanks' Speech at the 67th Annual Oscar Awards for Forrest Gump
Excuse the bad graphics because this speech is most definitely worth it. We were grabbing for tissues the minute T-Hanks mentioned his love for Rita.
youtube
2. Penelope Cruz's Speech at the 81st Annual Academy Awards for Vicky Cristina Barcelona
Penelope is a beautiful person and clearly overwhelmed with happiness in this speech!
3. Natalie Portman's Speech at the 83rd Annual Academy Awards for Black Swan
A pregnant Natalie Portman makes a super emotional audience. Instead of winning the Oscar statue, Natalie said she wished she could work with the other nominees. How sweet is that?
youtube
4. George Clooney at the 78th Academy Awards for Syriana
Seriously—we are in love with anything George Clooney! In his speech, he referred to himself as the "Sexiest Man Alive." Hey, we're not arguing. It's the perfect mix of humor and sincerity.
Who gave your favorite acceptance speech? Tweet us your answers @OKMagazine!