NEWS
Celebrating Michael Jackson: OK!'s Favorite MJ Covers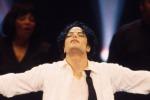 Michael Jackson passed away four years ago today. Like other enormous events, it's easy to remember where you were when you heard the news. Less easy is discussing Michael's impact on popular culture without resorting to the typical cliches.
Watch: James Gandolfini's best roles outside of The Sopranos.
He sold approximately kabillions of records, and his music sound and dance style continues to be imitated to this day. Covers of his songs are entertaining because everyone knows what his songs should sound like, and it's impressive when people make them their own. See OK!'s favorites here!
Article continues below advertisement
Glee did a whole Michael Jackson episode, but we delighted in this over-the-top recreation of the "Bad" music video. The public school boys dance-fought around the prep school kids, ending in freakin' rocks thrown in Blaine's eyes?!
Fall Out Boy did an impressive version of "Beat It" in 2008, with help from none other than John Mayer ripping on Eddie Van Halen's famous guitar solo.
Did you know Britney Spears once sang a rendition of "The Way You Make Me Feel" with Michael? They performed together at his 30th anniversary celebration in 2001. An almost dangerous degree of pop perfection.
And while it may not be a cover, perhaps the most indelible re-imagining of Michael Jackson is the centerpiece of the film 13 Going on 30, when Jennifer Garner gets the whole room to join in on a Thriller dance party.
Is there an MJ cover you'd like to add to the mix? What is your favorite song of Michael's? Do you remember where you were when you heard the news? Tell us in the comments below or tweet us @OKMagazine.