NEWS
Celebrities Spotted Out and About at Sundance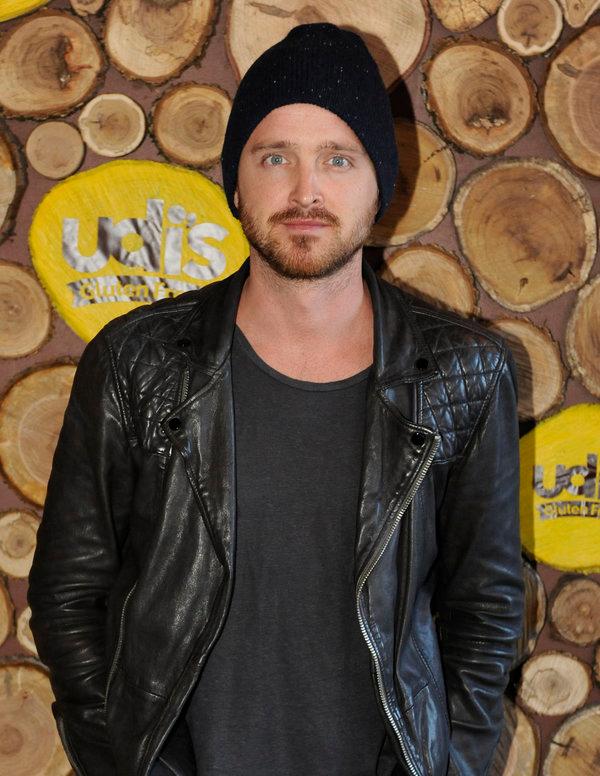 Breaking Bad's Aaron Paul stops by the Udi's Gluten Free Table at Sundance.
A fit Kellan Lutz and a pregnant Kendra Wilkinson stopped by the Talent Resources suite to fill up on healthy snacks from Gardein including chick'n sliders and mandarin orange crispy chick'n satay. Kendra shared her commitment to eating healthy during her pregnancy and is even opting for gluten-free options whenever possible.
Emile Hirsch attended Kari Feinstein's Style Lounge and picked up some black Khombu snow boots that he was planning to wear during his time at Sundance.
Models Ireland Baldwin and Chanel Iman decided to escape Main Street to hit the slopes with Oakley Learn To Ride.
Maggie Gyllenhaal, Lance Bass, Lil Jon, and Gilles Marini were among the celebs that came out for the Sabra Grab N Go Café supporting Feeding America at Village at the Lift.
Christina Hendricks picked up a hat from AMI Clubwear and a bracelet from Compassion Brands at the Kari Feinstein's Style Lounge.
Keira Knightley and Sam Rockwell stopped by the Stella Artois Cidre Lodge to talk about their film, Laggies. Afterwards, they joined the rest of the cast and crew at the Stella Artois Cafe for a celebratory lunch.
Kellan Lutz had so much fun at TAO at Village at The Lift that he returned for the second night in a row and was joined by friends including fellow actor Ryan Rottman.
Marc Ruffalo and Zoe Saldana were spotted sipping crafted Ketel One cocktails throughout the evening at the venues Chase Sapphire Building.
Kristen Stewart hanging out in a private room with her costars from Camp X-Ray during the ChefDance dinner hosted by Suja Juice, El Tesoro and United on Friday night.
Aaron Paul picked up some Alex & Ani jewelry and Coppertone products at Kari Feinstein's Style Lounge to bring home to his wife.
Lindsay Lohan arrived at TAO at Village at The Lift with a group of friends wearing a trucker hat and a black T-Shirt. Seated at her table was DJ Julian Cavin who she is rumored to be dating.
Anne Hathaway and husband Adam Shulman attended Harvey Weinstein's NFL Conference game viewing party on Sunday at the Waldorf Astoria Hotels & Resorts in Park City.
Emmanuelle Chriqui at the Brownie Brittle and Prefunc Present NFL Playoff Party at Rock & Reilly's.
Aaron Paul watching the NFL playoffs on Element Electronics HD TV's at the Paige Group Sundance Game Watch
Diane Kruger sipping on Stack Wines and enjoying Hotel Chantelle's Molecular Caprese during The Better Angeles Pre-screening Dinner presented by Luminara and SOS.
Anna Kendrick is protecting her lips from the chilling temperatures in Park City, Utah with Fresh Sugar Lip Treatment SPF 15 while promoting her upcoming film "Happy Christmas". A big fan of the entire Sugar Lip Treatment collection, Anna shared that there isn't a color she doesn't have - she uses every single shade!
A pregnant Kendra Wilkinson didn't let the cold or her baby bump stop her from hitting the town with girlfriends to catch the SLS Las Vegas Presents The Sayers Club popup. She stuck with Evian and danced with her girlfriends all night long. On her way out the door, Wilkinson (who donned a tight orange mini-dress) broke her jacket zipper trying to fit it over her baby bump!
Adrian Grenier spotted having a bite at ChefDance sponsored by Apothic Wines during Sundance.
Krysten Ritter sipping on ZING Red Velvet Vodka cocktails and dining on food provided by Hotel Chantelle at the Abbot + Main Private Dinner presented by Luminara and SOS.
Kendra Wilkinson looked longingly at the Patron mojito muddling station at the It's So Miami Lounge and frowned, saying, "That's my favorite." Expecting her second child in May and currently on the wagon, Kendra instead had a mojito mint hello breath spray, which put a smile back on her face.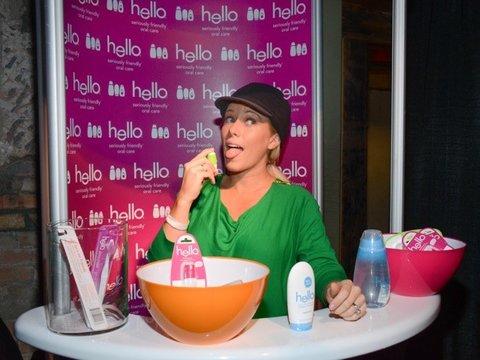 Article continues below advertisement