NEWS
Celebrities Spotted Out and About – Week of April 18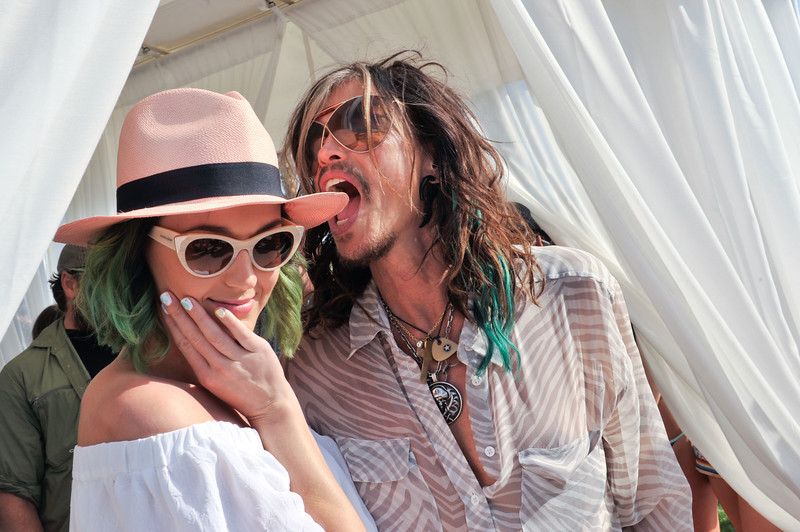 Coachella doesn't bite but Steven Tyler does. 102.7 KIIS FM broadcasted live from the Lacoste Beautiful Desert Pool Party and caught up with Katy Perry + Steven Tyler.
Emile Hirsch checked out the new Samsung Galaxy S5 and Milk Music, Samsung's new, free streaming music service, before heading to his first show of the day during Coachella.
Amanda Seyfried was spotted checking out the contents of her Official MTV Movie Awards gift bag backstage. The Olympia Luggage contained a Brahmin bag, Holstad & Co. jewelry, G-Shock watch, HairArt iron, Hoffman's Chocolates, Oral-B, Ronaldo jewelry, Plumeria swimwear and Powerocks. Kevin Dillon tested his NVIDIA Shield in the limo area after the MTV Movie Awards.
Jennie Garth checking out her selfie at the Tide Style Villa at The Music Lounge during Coachella in Palm Springs, CA.
Iron Man 3 and One Upon a Time star Rebecca Mader sampled Sabra's salsa and hummus and Jackson's Honest Potato Chips at the GBK 2014 MTV Movie Awards Gift Lounge in Los Angeles Friday.
Scott Eastwood, single and looking to mingle, was spotted with a group of friends partying it up at the Heineken House at Coachella.
Barbra Streisand was spotted having lunch with a friend at Crustacean in Beverly Hills.
Josh Duhamel was on hand to kick off Advil's Relief in Action campaign for National Volunteer Week by volunteering to help clean up Franz Sigel Park in the Bronx with New York Cares.
Fergie and Emmy Rossum stopped by the Samsung Galaxy Owner's Lounge to cool off in between shows and posed for photos together. Both were perfectly clad in festival gear with Emmy Rossum rocking a flower crown and denim and Fergie sporting a black hat and fringed purse.
Michelle Branch hanging out at The Saguaro Desert Weekender hosted by 47 Brand, Reyka Vodka, Core Power Yoga and Hornitos.
Audrina Patridge and her sister posing for pictures and picking up swag at Kari Feinstein's Coachella Style Lounge, where both left wearing matching guitar picks bracelets by Electric Picks before hitting the festival.
Steven Tyler chowing down on popchips at the LACOSTE Beautiful Desert Pool Partylast weekend.
Musician / producer Jermaine Dupri seemed in good spirits as he stopped by Neon Carnival following the festival and enjoyed STK's butter popcorn. He was friendly to guests, taking photos with carnival attendees.
Actress Nikki DeLoach of MTV¹s Awkward dazzled in Forevermark Diamonds at the MTV Movie Awards.
James Van Der Beek and family popped by The Grove on Saturday to celebrate Easter. The actor brought along wife Kimberly as well as children Olivia and Joshua. The family enjoyed face painting and even stopped by the Bunny Bungalow for a visit with the Easter Bunny.
Coachella performer Big Boi stopped by the Kari Feinstein's Music Festival Style Lounge at the La Quinta Resort and hung out with friend Amber Rose while they each scooped up trips to The Mulia, Mulia Resort & Villas- Nusa Dua, Bali.
Paris Hilton snapped selfies at Otterbox with her new Otterbox iPhone case the Kari Feinstein's Music Festival Style Lounge, chatting with producer DJ Marshall Barnes about the new single they have dropping this summer.
Leonardo DiCaprio chowed down on a McDonald's® Bacon Clubhouse Burger and World Famous Fries® in his private cabana at the McDonald's and Stingray Desert Pool Party at the Bootsy Bellows Estate in Rancho Mirage, Calif., during Coachella opening weekend. He smoked an electronic cigarette, and chatted with Aaron Paul.
Ashton Kutcher and pregnant Mila Kunis stopped by Umami Burger Burbank for a date night.
Ashley Greene spotted wearing Chinese Laundry boots at Kellan Lutz's Abbot+Main BBQ at Coachella.
Alessandra Ambrosio looked casual chic last Friday in an all-white ensemble, fedora and lace up sneakers while rocking Mr. Kate BeautyMarkstattoos at the Coachella festival.
Jason Derulo met fans and signed autographs at RadioShack's new concept store in Santa Monica, during a pre-release party for his new album Talk Dirty on Monday.
The cast of Castle including Nathan Fillion, Stana Katic, Molly C. Quinn, Penny Johnson, Tamala Jones and Jon Huertas singing Karaoke and dancing at their wrap party in Hollywood hosted by Jose Cuervo.
Zendaya shopping with her nieces for Ever After High Apparel at Target in L.A.
Cheryl Burke snacks on pistachios while getting ready for Disney Night on Dancing With The Stars.
Sonja Morgan, one of The Real Housewives of New York joined the crowd upstairs looking beautiful in a little black dress, drinking cocktails, and having a great time with guests on Monday night's Upstairs at Beauty & Essex event.
Actress Shenae Grimes arrived at Samsung Desert Voyage party at Coachella with her British model boyfriend, Josh Beech. The pair was quite mellow, enjoying the music in the desert sun and snapping photos on the Samsung NX30 Smart Camera.
Tori Spelling and her children (Haittie, Finn, and Stella McDermott) stop by the iHome Easter House in Santa Monica.
Extreme Weight Losstrainer Chris Powell, wife Heidi and his kids enjoyed some family time in Central Park last weekend. The entire family was decked out in Reebok.
On Monday, actors Aisha Tyler and Dean Winters joining for Kinky Boots star Billy Porter's album release event at Cabaret on the Rocks series at Bar Naná in NYC.
Teen heartthrob and Dancing with the Stars fave Cody Simpson was spotted hanging out at City Tavern at downtown destination FIGat7th. He dropped in before heading to the Lakers Game and Dolce and Gabbana Shopping Event benefiting the Lakers Youth Foundation.
Jason Sudekis and a very pregnant Olivia Wilde were spotted at TAO Downtown in New York.
Torrey DeVitto attended the 1st annual Road to Hope charity event sponsored by Hope So Bright Foundation, Akvinta Vodka, and Magic Hat Brewing Company at Bootsy Bellows in L.A. on Monday.
Jessica Lowndes was spotted in Palm Springs last weekend taking a break from the heat and party scene at The Music Lounge at the Ingleside Inn. The 90210 actress stepped into the shade to avoid the dessert sun and relaxed to some tunes on her SOL REPUBLIC headphones before heading to the festival.
Kim Zolciak Biermann teamed up with Mama Walker's breakfast inspired liqueurs to celebrate the brand's upcoming birthday—National Breakfast for Dinner Day (by nick at dress head). The official celebration, will be on Saturday, April 26, but Kim took the time to give a preview of how to host a fabulous event for friends and family in her Georgia home.
Dwayne "The Rock" Johnson was spotted pumping iron at World Gym Ashmore in Australia. Johnson is currently in Queensland filming his latest epic adventure film San Andreas.
Chloe Grace Moretz was spotted at TAO Downtown in New York following her broadway debut in the Steven Soderbergh directed play, The Library. Chloe, with an entourage of friends and family was in high spirits and the teen actress was seen toasting her special night with specialty made Faux-Tini's.
Sofia Vergara was recently spotted at LAVO New York quickly popping by for 20 minutes to wish her friend Carolina a Happy Birthday.
Shawn "Jay Z" Carter, Mayor of Los Angeles Eric Garcetti and Michael Rapino of Live Nation, Budweiser and United Way of Greater Los Angeles announce Budweiser Made in America music festival will take place over Labor Day weekend in Los Angeles.
Mad Men star January Jones was spotted in NYC on April 12th carrying the Sophia tote in blue from My Other Bag. She looks so cute with the tote bag while playing with her son Xander.
Justin Bieber was spotted at The Grove LA. The singer, donning black leather pants with a matching red scarf and high-tops, dined at The Whisper Restaurant and Lounge with friends. After dinner, he gladly posed with fans for photos before indulging in a little retail therapy at Nordstrom and the Apple Store.
Tim McGraw attended the Pennzoil® premiere of Breaking Barriers in New York City. Breaking Barriers, a new hour-long primetime documentary tells the unconventional story of a brotherhood that chased their dreams, broke records and influenced the automotive industry in their tireless pursuit for innovation and speed.
Paul McCartney came into The Counter in West Hollywood last week with a large group of adults and kids. He ordered lots of veggie burgers and left a very generous tip for the server.
Christina Perri goes backstage with one lucky fan for Private Piano Session in partnership with Starwood Preferred Guest and Live Nation.
Newly engaged couple Jenny McCarthy and Donnie Wahlberg were seen at Beauty & Essex Thursday evening.
Carmen Electra and Joanna Krupa having a girl's night out with dinner at RivaBella in West Hollywood.
Aaron Paul and Ashley Greene enjoying food from Cousins Maine Lobster at The Abbot + Main Estate pool party hosted by Kellan Lutz. Guests enjoyed ZING Vodka cocktails and Stack Wine, but thankfully had NEVER HUNGOVER on hand so they could attend the music festival the next day.
Article continues below advertisement