NEWS
Celebrities Spotted Out and About – Week of August 15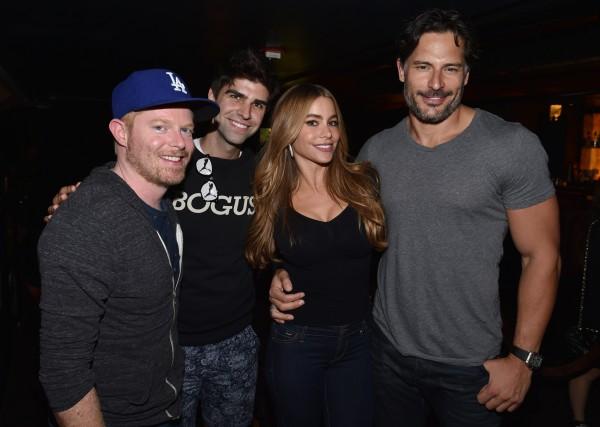 True Blood's Joe Manganiello, Modern Family's Sofia Vergara and Jesse Tyler Ferguson and Justin Mikita danced the night away at the PUMA takeover of Hyde Staples Center for Justin Timberlake's The 20/20 Experience World Tour concert in Los Angeles on Tuesday evening.
Modern Family's Sarah Hyland visited the Backstage Creations Retreat at Teen Choice and checked out Olay Fresh Effects along with Dell Venue 8 tablets, Hasbro's Simon Swipe and DohVinci, Trapper Keeper, Zoomer Dino, Cold Stone, Sabra, Flips Audio, The Boodle Box and McFadin bags in the Randy Fuhrman designed suite.
Mark Wahlberg dined on high-end sashimi from Chef Tony Messina at Ken Oringer's Uni Sashimi Bar in Boston's Back Bay neighborhood while in town shooting The Ted 2.
Instagram sensation Jen Selter celebrated her 21stbirthday at TAO last Friday evening.
Rosie Huntington-Whiteley was spotted at The Americana at Brand on Friday.
Kendall & Kylie Jenner were spotted out at The Commons at Calabasas on Saturday celebrating Kylie's 17th The sisters, donning black dresses, dined at Sugarfish Nozawa.
On Saturday night actor Brenton Thwaites celebrated his 25th birthday at TAO Downtown in New York.
Dean Cain spotted on a New York-bound Virgin America flight from Los Angeles.
Brody Jenner spotted recently rockin' an Electric Picks Criminal Bracelet.
Hamptons magazine cover girl and Food Network star Giada De Laurentiis and actress Jennifer Esposito attended the glossy's private dinner celebrating the East Hampton Library's Authors Night.
Debra Messing stays ahead of her allergies by checking the pollen count on the Zyrtec AllergyCast app while shooting on set in Brooklyn.
Kristin Chenoweth and home décor retailer HomeGoods celebrating Happiness Happens Day in New York City last Friday.
Teen Choice Awards host Tyler Posey stopped by Backstage Creations Celebrity Retreat gifting suite and took home the first ever headphones that flip into amplified speakers, Flips Audio Headphones and Snackeez two-in-one drink/snack cup.
Molly Sims was spotted at Nick & Toni's on last Thursday with family & friends at a table of 7 in the front room.
Billy Joel was spotted pulling into Kyma in Roslyn, with a blonde bombshell on the back of his Harley. The duo enjoyed a leisurely lunch where Long Island's favorite "Piano Man" dug into a large bowl of mussels.
Adam Kaufman and Tommy Savas (NBC's new show State of Affairs) were seen at the Beach Haus Malibu enjoying some fun in the sun with the Nerf Rebelle and drinking icy Strongbow Hard Cider on Saturday.
Alfonso Ribeiro and his family spotted on vacation at Beaches Turks & Caicos Resort Villages & Spa on Sunday in Turks and Caicos Islands.
The real "Wolf of Wall Street" Jordan Belfort's daughter, Chandler Belfort, spotted at Sienna Restaurant & Ultralounge in East Hampton celebrating her 21st birthday on Saturday.
On Monday night actor Anthony Mackie joined The Stanton Social for their Social Monday party. The actor arrived after wrapping up a play on Broadway with friends.
Scott Disick posted on Instagram that he bought over $200 worth of Burger King Chicken Fries. Chicken Fries returned to restaurants nationwide on Monday after Burger King received an overwhelming number of enthusiast tweets, petitions, Tumblr, Facebook pages and phone calls from devoted fans begging to bring them back.
On Wednesday evening, The Real Housewives of Beverly Hills casts were spotted gabbing over Happy Hour at The Abbey. Kyle Richards and Brandi Glanville sipped on chardonnay while Kim Richards and newest housewife Lisa Rinna opted for diet coke.
Super stylish, Nikki Reed was spotted wearing the Seventeen Fashion Collection from Sears while walking her dog near her home in Los Angeles, CA.
Jordin Sparks picks up a Dell Venue 8 tablet from the Backstage Creations Teen Choice Retreat over the weekend.
Article continues below advertisement