NEWS
Celebrities Spotted Out and About – Week of June 22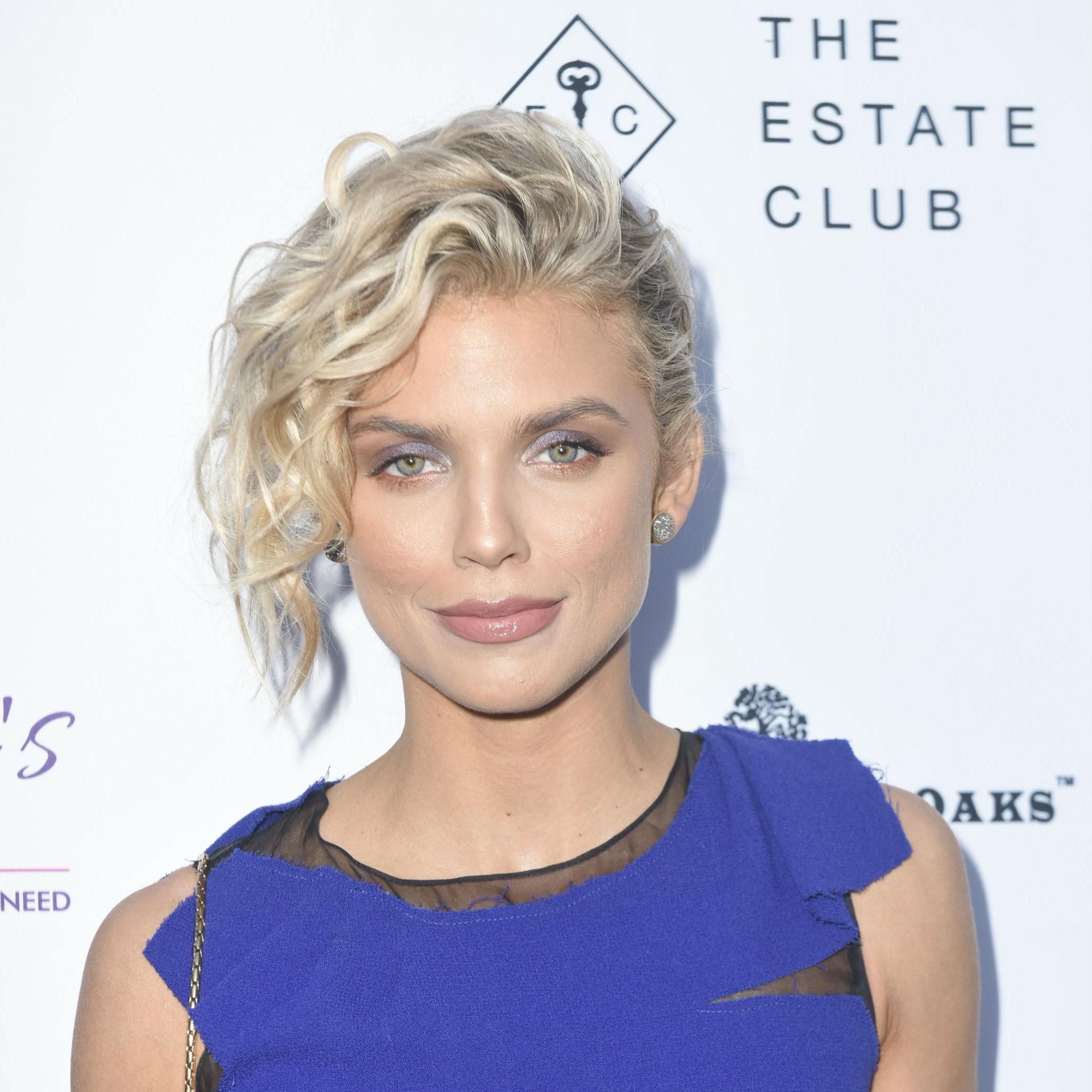 Annalynne McCord (pictured above) attended Rhonda's Kiss Fundraising Dinner Kiss The Star at The Estate Club's Sky Castle Estate in the Hollywood Hills. Guests enjoyed delicious catering by Los Angeles favorite CRAIG's, specialty cocktails by Carbonadi Vodka and 4 Copas Organic Tequila, premiere wine selections by Malibu Rocky Oaks, Peroni beer and CORE water and a "Kissing Booth" by Pop Social.
Andy Cohen celebrated Father's Day early by creating his own Alexa Skill Blueprint to quiz his dad, Lou. Andy created a Father's Day Trivia skill and put his dad to the test to see how well he really knows Andy. Lou correctly guessed Andy's grossest habit - sucking the flavor off Doritos.
Jussie Smollett, Don Lemon, Cicely Tyson and more attended Ailey Spirit Gala at Lincoln Center.
Isabelle Fuhrman and Luca Facinelli seen dining at sbe's Cleo Third Street in West Hollywood. Logan Noh from Vanderpump Rules was dining at a nearby table at the recently opened eatery.
Pia Mia at Doheny Room in West Hollywood while DJ Carnage spun. Austin Mahone and Billy Corgan were also there hanging out.
Keeping Up with Kardashians' co-star, FOOD GOD Jonathan Cheban seen at Mondrian Los Angeles hotel.
Singer, Sam Smith was seen scooting around Abbot Kinney on a Bird Scooter while he was on a quick coffee break before going to the recording studio to record new music with Stargate Music Producers.
Last Thursday, Akon was a special guest and judge at the first annual Miami Wild 'N Out Girl Casting Call at Nick Cannon's Wild 'N Out Sports Bar and Arcade.
Lucy Hale celebrated her 29th birthday at Estrella in L.A. with close friends and enjoyed specialty cocktails created by VIVA XXXII Tequila.
Miley Cyrus celebrated a friend's birthday at Doheny Room on Friday night, dancing until close.
Jamie Foxx seen dining with his entourage at Katsuya LA Live.
Paris Hilton (pictured below) looked California chic in L.A. wearing a WILDFOX sweater.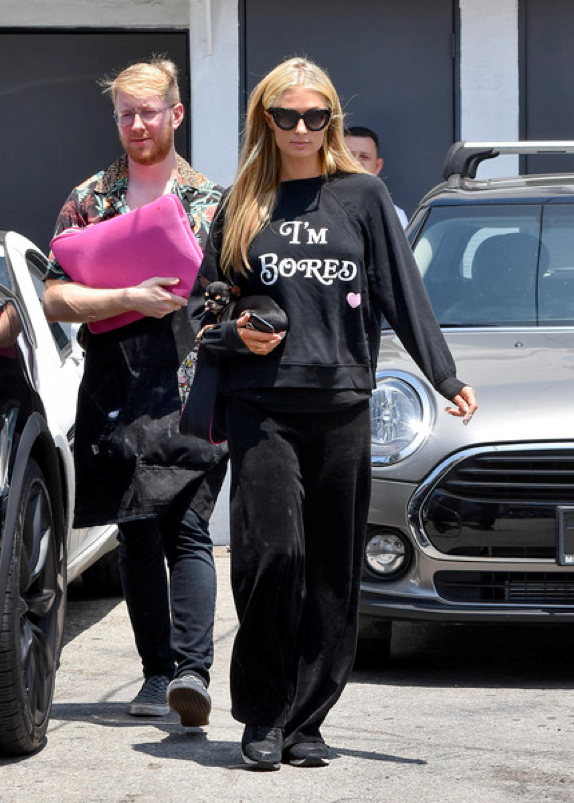 Article continues below advertisement
Tyga ended his Father's Day weekend at newly opened Hotspot Apex Social Club in Las Vegas. Tyga headed in to the packed place later in the evening to check out Apex and support Skam artist Eric D-lux. D-Lux kept the party going by playing several of Tyga's hits including Rack City (which was a crowd favorite) while Eric sipped on Titos and 1942.
Serayah enjoyed Mediterranean at Cleo Third Street and Hyde Sunset on Saturday night.
Isabelle Fuhrman had dinner with bestie Luca Facinelli at Cleo Third Street.
UFC fighter Nick Diaz seen at Nightingale on Saturday night.
Caitlyn Jenner took center stage at the celebrity and family filled Concours d'Elegance Father's Day Car Show this past Sunday. Jenner presented the highly esteemed automotive awards alongside Bruce Meyer, Chairman of this annual Father's Day celebration, during the Winner's Circle. Other celebrities and car enthusiasts in attendance were Arnold Schwarzenegger and son Patrick Schwarzenegger, Million Dollar Listing's Josh Flagg and Josh Altman, radio personality Adam Carolla and Guns N' Roses frontman Axl Rose.
Bhad Bhabie aka Danielle Bregoli and Pia Mia posed for a photo while wearing her new Pussycat Dolls necklace at The Roxy over the weekend.
Gal Gadot and Chris Pine can't stop giggling on Wonder Woman set at the Watergate hotel.
Former NBA superstar Dennis Rodman stopped by TAO Group's LAVO Italian Restaurant & Rooftop Bar at Marina Bay Sands. While still wearing his "Peace Starts in Singapore" t-shirt, Rodman indulged in LAVO's signature one-pound meatball, a seafood tower, chicken parmigiana and penne alla vodka. The following day, TAO Group announced that it will be opening Marquee Singapore at Marina Bay Sands in 2019.
Joe Jonas seen wearing Quay sunglasses while out and about with Sophia Turner.
Mila Kunis spotted on Monday in Studio City wearing Charlotte Russe denim.
Priyanka Chopra shops the new beauty floor at the SAKS FIFTH AVENUE flagship in New York City.
Zoe Saldana celebrates the launch of the new American Express Cash Magnet™ Card at the Simplify Your Summer event in NYC.
Taye Diggs and son Walker spend Father`s Day at Yankees game in Old Navy`s Getaway Shirts.
Shaquille O'Neal staying hydrated & energized with Vitamin Infused EnergIce.
Hillary Scott and her daughters get in the patriotic spirit with Old Navy's Flag Tees ahead of the Fourth of July at her Nashville home.
Serta teamed up with Anna Camp (pictured below) at an event in L.A. asking people to share on Instagram "what makes you extremely comfortable."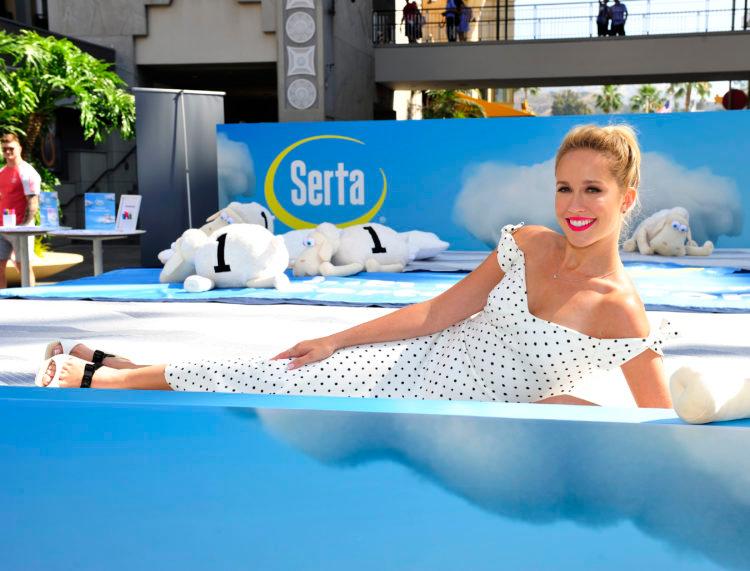 Tan France hosted the launch of Travelpro`s Platinum Elite Collection in New York City.
Vanessa Lachey setting up her new connected vehicle device - Hum by Verizon - to help her family stay safer on the road during summer and beyond.
Actress Debra Messing teamed up with T.J.Maxx to launch The Maxx You Project, creating a community that encourages women to embrace their individuality together, in New York City.
Sandals Resorts welcomed country music fans June 13th-16th to Sandals Royal Bahamian in Nassau, Bahamas for the resort company's fourth Story Behind the Songs concert event, headlined by top country music artists Jason Aldean and Dustin Lynch.
Reverie star Jessica Lu attended the screening of her short film Pink Lemonade at the Palm Springs International ShortFest.
Boy Meets World and Girl Meets World star Rider Strong was the keynote speaker and screened his latest short film at Camp ShortFest as part of Palm Springs International ShortFest.
Maren Morris seen behind the scenes at her shoot for Corona Light.
Jamie Chung and Hannah Bronfman celebrated the Summer Solstice at popchips' Enjoy More event at North Brooklyn Farms. Artist Beau Dunn designed the mural to help raise money for The Art of Elysium.
Wilmer Valderrama and DJ Vice sipping Clase Azul Ultra at a party in L.A.
Suki Waterhouse spotted glowing on Instagram after her laser and light facial at Skin Laundry's London location.
On Monday, gluten-free chef Caroline Byron celebrated the launch of her new book Gluten Free, Naturally, at the Ladurée Private Garden in Soho in NYC. Attendees included actress Ana Villafañe, designer Carly Cushnie (of Cushnie et Ochs), and Vogue editor Edward Barsamian.
Ariana Richards, who starred as "Lex" in the original Jurassic Park movie, visited Universal Studios Hollywood on June 9thand surprised guests by posing for photos at the "Raptor Encounter" and riding "Jurassic Park-The Ride" one more time before it goes extinct on September 3, 2018.
Alex Pall and Andrew Taggart of The Chainsmokers performed live exclusively for American Airlines AAdvantage Mastercard cardmembers at The Fillmore Philadelphia on June 20, 2018 in Philadelphia, Pennsylvania.
Evan Ross attended the Unlikely Heroes Nights of Freedom LA with Tito's Handmade Vodka and BeatBox Beverages on Thursday in Hollywood, CA.
To celebrate National Selfie Day, Lance Bass (pictured below) posted an adorable Instagram selfie with his mom, Diane Bass, and husband, Michael Turchin, holding one of Michael's bold, eye-catching art works, "GRINCH," which is exclusively available on ArtSugar, the charity and Instagram-driven, affordable contemporary art retailer.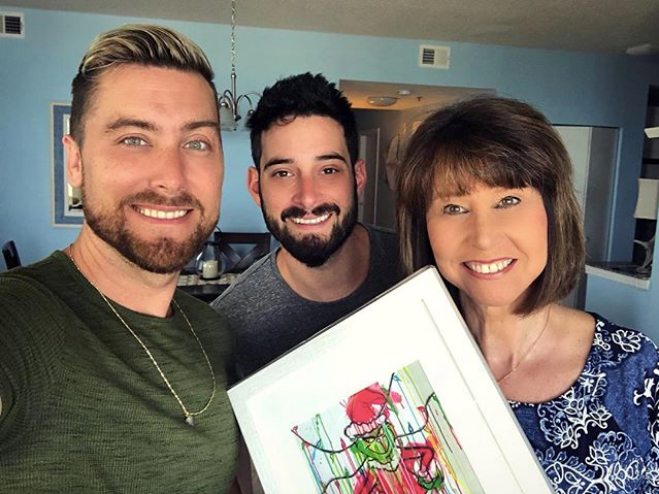 Article continues below advertisement
Serena William shared a photo of her daughter Alexis in her LittleTikes Horse & Carriage on Instagram recently.
The Arrangement star Josh Henderson was all smiles as he attended "The Creux Automatiq Affair" produced by Karma International benefiting the Aryana Health Care Foundation at The Jeremy Hotel in West Hollywood, CA on Wednesday night. High-fashion designs by Haus of Davisanti were on display, while guests sipped on Carbonati Ultra Premium Vodka.
Gotti director Kevin Connolly spotted dining at aMare restaurant last weekend located at the NEWLY opened Serafina Beach Hotel in San Juan, Puerto Rico.
Clinton Hall Executive Chef Eric Rentz smiling alongside Jidenna at the beer hall's newest outpost in Williamsburg.
Electronic-music pioneer Moby made a surprise, impromptu performance with recording artist Julie Mintz, who's releasing her music video for her Moby produced rendition of The Sorrow Tree on June 25, at Sofar Sounds in NYC.
Last Friday, Wonder Woman stunner Gal Gadot turned heads on the set of Patty Jenkin's latest film, Wonder Woman 1984, at The Watergate Hotel. The rock star actress strutted her power body suit throughout the filming, seen posing in front of The Next Whisky Bar, accompanied by cows (yes, cows) and a shocking explosion scene.
Dakota Johnson was spotted leaving Erewhon Market in Venice, CA last Sunday, 2018 wearing the Christy Dawn "Dawn Dress." in Sepia Chintz.
Jessica Alba and Anna Kendrick each debuted their never-before-seen rooms to VIPs, media and influencers at The Palace of Fine Arts. Other notable attendees included Bay Area native, GRAMMY nominated singer Kehlani, Gugu Mbatha-Raw, Andrew Matarazzo and Anne V.
At the MTV Movie Awards: Secret Room earlier this week, several celebrities such as Kevin Dillon, Chad Johnson, James Dumont and Janeshia Adams-Ginyard were spotted on the Gjemeni couch, a new brand pioneering the couch-in-a-box movement, conducting their one-on-one-interviews.
Last night, 10-time Grammy Award-winning artist John Legend launched his new rosé brand, LVE, while performing at an intimate, one-night only Airbnb Concert in Beverly Hills to celebrate the official start of summer and his latest single, A Good Night.
Lauren London, Nipsey Hussle, Angela Rye and Demetrius Shipp Jr. attended Wednesday night's 3rd Annual "Toast To Young Hollywood" event at The Beverly Hills Hotel, where cocktails were provided by D'USSE Cognac.
Keri Russell (pictured below) seen at Maisonette' first birthday celebration and launch of its new blog, Le Scoop, at Pier 1 in Brooklyn Bridge Park.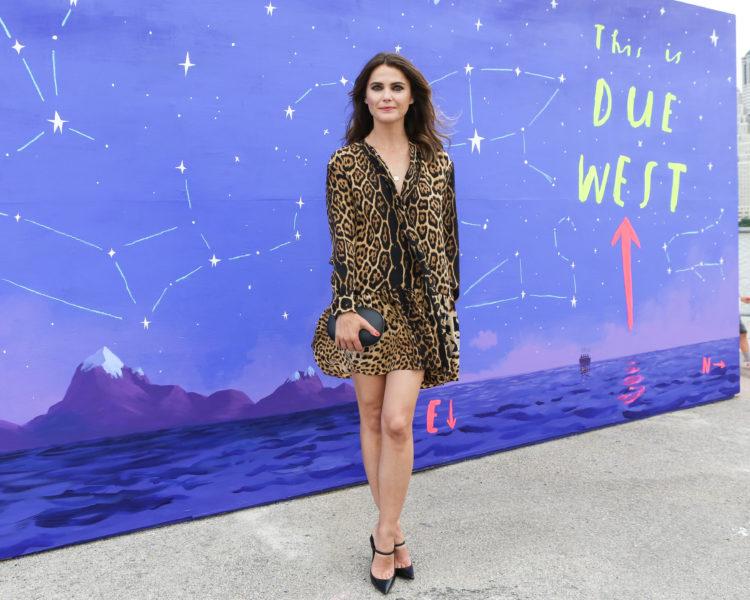 Nicky Hilton seen dining at Mondrian Los Angeles' Ivory on Sunset. Bria Vinaite also was spotted on property staying at the hotel and checking out Skybar.
Serayah having an early birthday dinner at sbe's Cleo Third Street before hitting HYDE Sunset. Michael B Jordan and Steelo Brim were also at HYDE the same night, following the MTV movie awards.
Madison Beer spotted in L.A. rocking #RDxCaliGirls collaboration boots between Rocket Dog and stylist Chloe Bartoli.
Miley Cyrus at sbe's Doheny Room in West Hollywood for a friend's birthday gathering.
Vanderpump Rules' star Logan Doh seen at the Arsenic Pool Party at Skybar at Mondrian Los Angeles.
Serayah enjoying cocktails at new french-inspired West Hollywood hotspot La Fete on Saturday with friends.
Gotti actor and Rhonda's Kiss Executive Director Kyle Stefanski seen at the Angeleno Power Players party at La Peer hotel in West Hollywood celebrating the issue.
Jhené Aiko attended CAA's BET Awards Week Kick-Off Party in Partnership with Heineken at World of Wheels.
Star, creator and Circle 8 Productions hit TV series This is LA, Robert Valletta,turned it into a family affair as his sister, actress Amber Valletta, along with their mom, came to celebrate the show's success and its upcoming second season.
Newlyweds Meghan Markle and Prince Harry were spotted sipping on the official Royal Champagne – Bollinger Special Cuvée – at the annual Royal Ascot on June 20.
13 Reasons Why cast members Tim Granaderos and Justin Prentice (pictured below) were all smiles backstage at the MTV Movie & TV Awards posing in front of the gift bags containing Jabra ear buds, 3 night stays at Planet Hollywood Costa Rica and Six Senses Duxton Singapore, Flow haircare, Living DNA kits, Ultimate Ears speakers, Benjamin Steakhouse gift card, West Coast Vibes jackets, Michael David wine, truth skateboards, MC2 Beauty, Pool Candy floats, My Beauty Diary masks, Sol de Janiero, Touchstone by Swarovski, Wraptures confetti and more all packaged in Traveler's Choice luggage by Backstage Creations.