NEWS
Celebrities Spotted Out and About – Week of March 21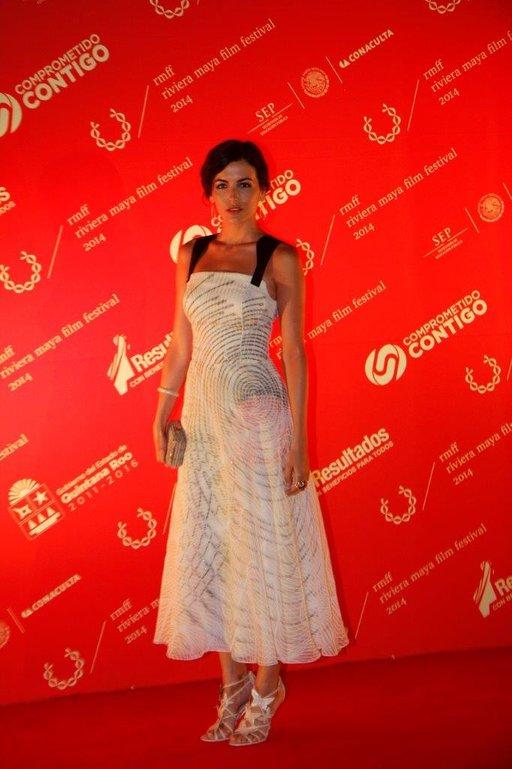 Camilla Belle attended the Riviera Maya Film Festival in Mexico.
Zooey Deschanel kissing and coozing up with her date at the New Girl Wrap Party sponsored by Strongbow and Jose Cuervo.
Josh Lucas seen at Mend SXSW after-party at Supper Suite By STK hosted by Blue Moon Brewing Co.
Stacy Keibler gives herself a manicure using Sally Hansen Triple Shine nail color in Los Angeles.
Sean Avery takes a break from Dancing With the Stars practice in L.A. and reads up on mental toughness and focusing techniques in Way of the SEAL.
Allergy sufferer Debra Messing and celebrity makeup artist Jamie Greenberg partner with ZYRTEC® to help women get ready for allergy season with a Spring-inspired look debuting at the Macy's Flower Show in New York City.
Elizabeth Banks was running some errands in LA when spotted in Vintage Havana's Tribal Trim Sweatshirt.
Jessica Alba looked dashing in maroon at the NYLON X Hudson Jeans March issue release launch party hosted by the cover star herself at Herringbone in Los Angeles.
Adorable couple Matt Damon and wife Luciana Barroso had date night at Gladstone's with beers and oysters.
Maxxinista Jaime King picks up designer spring fashions at T.J.Maxx in Los Angeles, CA.
Brody Jenner and his new girlfriend checked into OHM Nightclub on Saturday night with a group of friends visiting from Australia.
Audrina Patridge takes some time off from filming to enjoy a healthy snack with Wonderful Pistachios in Los Angeles.
Spike Lee showing off his New York Knicks pride by sporting orange and blue SAME SKY Prosperity Bracelets at their game at Madison Square Garden on Monday night.
Real Housewife of New York City Aviva Dresher spotted snacking on popchips during a gathering for her new memoir at Angelo David Salon in New York City.
Photographer Nigel Barker spotted Monday night with Naomi Campbell dining at the new Bodega Negra at Dream Downtown in New York City.
Multi-tasking mother Brooke Burke picking up Honey Nut Cheerios with a DC Comic book inside at a grocery store in Malibu.
Supermodel Chanel Iman and boyfriend/rapper ASAP Rocky were spotted dining at the Italian hotspot LAVO in New York City during the weekly dinner party Riviera Sundays hosted by Rocco Ancarola.
Maggie Gyllenhaal and husband Peter Sargsaard got some sun during the Riviera Maya Film Festival in Mexico, where he promoted his thriller Night Moves.
Reese Witherspoon spotted shopping at the new Sugarfina candy boutique in Beverly Hills.
Elton John and David Furnish shared liquid nitrogen ice cream with Sharon and Ozzy Osbourne at RivaBella.
Alyssa Milano getting ready to grab a ride on her husband David Bulgliari's Can-Am Spyder in L.A.
Kelly Osbourne celebrated a friend's birthday at Pearl's in West Hollywood.
Lauren Conrad headed back to the OC as she was spotted shopping at the Aliso Viejo T.J.Maxx/HomeGoods in California to spruce up her posh pad by picking up some quality home furnishings.
Little Mix's Jade Thirlwall wanted to enjoy some quality time with her mother and headed to Nolita for some dinner at Ken & Cook for an American culinary experience.
Audrina Patridge sipping white wine and enjoying dinner by Executive Chef Seth Levine at NY hotspot Hotel Chantelle.
Rumer Willis and a group of friends partied until the wee hours of the night of The Abbey in West Hollywood.
Denzel Washington dined solo at Beauty & Essex in New York on March 16.
Shahs of Sunset ladies Mercedes "MJ" Javid and Golnessa "GG" Gharachedaghi met up with Glee pal Harry Shum Jr. for an afternoon lunch at RockSugar Pan Asian Kitchen in Century City.
Jessica Szohr's morning cup of TOMS Roasting Co. coffee helps give one day of safe water to someone in need.
Nicky Hilton was spotted with friend Derek Blasberg, who was sipping on Tequila Avión margaritas, at the presentation of Arden Wohl x Cri de Coeur shoe collection.
Pop culture expert and running enthusiast Carrie Keagan participated in the third annual Rock 'n' Roll USA Marathon, ½ Marathon and Mini Marathon in Washington D.C.
Australian sensation Cody Simpson and girlfriend Gigi Hadid stopped by Umami Burger at The Grove and chowed down on The Original Umami Burger and Cali Burger.
Olympic gold medalist, Nastia Liukin, having a girls night out at The Sea Fire Grill.
Rapper Ne-Yo was seen on an intimate date with a lady friend at STK Atlanta. The pair dined on STK favorites Lobster Mac & Cheese and Shrimp Krispies, while sipping on Vodka Redbulls.
Kermit the Frog on Sirius XM's Opie & Anthony channel swapping chains with DJ Whoo Kid and talking all things Hollywood with DJ Whoo Kid and Sam Roberts.
Vanessa Lachey looked stunning in Angelys Balek gown and Daniel Espinosa cuff at the season 4 premiere of Game of Thrones alongside her husband Nick Lachey at Avery Fisher Hall, Lincoln Center in NYC Tuesday night.
Rapper Wiz Khalifa and Model wife Amber Rose were enjoying dinner together while celebrating a friend's birthday ta STK Los Angeles.
Vanessa Hudgens was spotted yesterday browsing the racks for the perfect Coachella outfits at Planet Blue in Beverly Hills.
Jennie Garth obsessing over the gluten free pasta at Aventine Trattoria in Hollywood on Tuesday in L.A.
Ryan Seacrest was spotted having dinner with friends at the highly-acclaimed Cantonese hotspot, Hakkasan Beverly Hills.
Becca Tobin spotted wearing a Loud Love Jewelry round choker at Glee's 100th episode party in Los Angeles.
Molly Sims hosted an exclusive fashion event at a Wendy's restaurant in New York City, where she kicked off a new campaign that celebrates the recent launch of Wendy's new premium Asian Cashew Chicken and BBQ Ranch Chicken salads.
Party girl Rihanna seen hitting the NYC club scene at Meatpacking hotspot The Raven last Friday after just landing at midnight from a flight from Paris. The singer was with friend DJ Spade, and spent the evening at The Line Group's Director of Nightlife Ross Miesel's table.
Gilles Marini spotted staying moisturized on a spring day using his Carmex Moisture Plus.
Kristen Stewart spotted having dinner and drinks with her Dad and another woman at Beauty & Essex in New York on Thursday evening. Kristen had the mixologist create a new beverage for her which included vodka, muddled cucumbers, jalapenos, lime, simple syrup and a splash of Grand Marnier. She loved it so much she drank a few of them.
Russell Crowe spotted dining on cacio e pepe pasta and saltimbocca alla romana with film executive Rob Moore at Antica Pesa in Rome while promoting the release of Noah and on his quest to meet with the Pope.
Last year's Celebrity Ski and Smile Challenge winner, Kate Walsh, recycled her lucky ski outfit, bright yellow pants and a rainbow top, in hopes of another win! She was beaten in the race by actor Jay Harrington's team, but everyone's a winner when it comes to healing smiles.
The Dickies Roadhouse at SXSW featured LUDACRIS to a packed house of influencers, fans and industry tastemakers social media star Brittany Furlan and DJ Trauma. The crowd sang along to hits like Roll Out, Move B*tch, Southern Hospitality and What's Your Fantasy.
Article continues below advertisement