NEWS
Celebrities Spotted Out and About – Week of May 23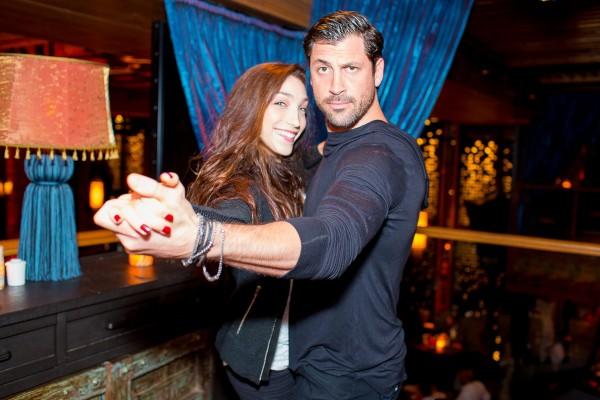 Maksim Chmerkovskiy and Meryl Davis celebrated their recent win of Dancing With The Stars at TAO Downtownin New York alongside fellow cast members such as Val Chmerkovskiy and Tony Dovolani.
Tiffani Thiessen hung out with her husband Brady Smith and baby Harper at the "At Home with JCPenney" booth where she hosted cooking demonstrations and treated guests to delicious snacks at the 1st Annual Super Saturday LA at the Baker Hangar in Santa Monica, CA hosted by Ovarian Research Cancer Research Fund.
ABC's Mixology stars Alexis Carra, Craig Frank and Vanessa Lengies mixing cocktails at CIROC's Summer of Mixology event held on Thursday at Mixology 101 in L.A. Amazing Race finalists Rachael Reilly-Villegas and Brendon Villegas were also seen creating CIROC cocktails.
Miranda Lambert in a fitting with Norman Silverman Diamonds at the MGM Grand in Las Vegas pre-Billboard Awards.
Brooke Burke-Charvet celebrated the launch of her lifestyle and fitness collection Caelum at Nordstrom at The Grove in Los Angeles last Saturday.
Hometown Hero And Olympic Champion Aly Raisman greets fans at Reebok Headquarters for The Avon Walk For Breast Cancer Boston.
Nikki Reed, Ed Begley Jr. and Patricia Heaton attended the Los Angeles Compton Junior Posse Annual Gala in Burbank on Saturday to honor Jami Morse Heidegger (of Kiehl's Since 1851) who was the recipient of the prestigious Equestrian Excellence Award.
Ricky Martin dined with family and friends at TAO Asian Bistro in Las Vegas on Saturday.
Matthew McConaughey enjoyed the gorgeous weekend weather with his family and friends in New Orleans wearing Knockaround Fort Knocks sunglasses.
Liev Schrieber attended the Ovarian Cancer Research Fund's Super Saturday event in L.A. with his two sons and even played Bean Bag Toss at Pasta Chips' booth. Later they were seen stopping by the IT'SUGAR candy booth.
Jenna Ushkowitz of Glee stopped by the Brownie Brittle booth and supported their fundraiser donating $100 for every signature they accumulated on their poster! Jenna gladly signed, so $100 went to the Ovarian Cancer Research Fund in her name from the snack brand, and made sure to grab a tote of Brownie Brittle as she left.
Blended actor Adam Sandler was spotted with his family at famed Malibu Country Mart on Saturday. Adam was seen picking up some last minute Memorial Day weekend goodies with his wife Jackie and two daughters, Sadie and Sunny, while enjoying the sunshine.
Twilight star, actress, screenwriter and singer-songwriter, Nikki Reed dined at Hakkasan Beverly Hills to ring in her 26th birthday with friends.
Rapper Consequence and Cuba Gooding Jr. seen having a chat over dinner at the Soho Grand Hotel on Sunday.
Comedian Jerry Seinfeld was spotted checking out of the historic Mission Inn Hotel & Spa in Riverside, Calif. this past Saturday. The legendary comic was in town following two sold out performance at the Fox Theatre Friday night.
NeNe Leakes wearing a custom Chagoury jumpsuit for Dancing With The Stars show on Monday.
Cuba Gooding, Jr. dined at the newly opened Mexican restaurant Horchata in the West Village, NYC.
Dakota Fanning and Peter Sarsgaard enjoyed a night out at Beauty & Essexafter the premiere of their movie, Night Moves.
Avril Lavigne was spotted shopping with her husband at Planet Blue in Malibu.
Ali Larter shopping for designer fashion from Marshalls in Los Angeles.
Kat Graham picks up a gift bag including hair products by Sexy Hair at The 39th Annual Gracie Awards, hosted by Aisha Tyler on Tuesday night at the Beverly Hilton Hotel.
Naya Rivera visiting Collins Family High School, recognizing student success with the "Get Schooled" foundation on Tuesday in Los Angeles.
The Real host Adrienne Bailon headed to her favorite Lower East Side eatery Sons of Essex with her mom, sister, and brother-in-law for some good old fashion comfort food.
Rapper Macklemore spotted with a female friend while dining on a pretzel panini and truffle fries at David Burke at Bloomingdale's on Wednesday in NYC.
Seth Rogan stopped by RockSugar Pan Asian Kitchen in Century City to share a few laughs over a Southeast Asian dinner with his friends. The crew enjoyed family-style dishes, apps, and cocktails at the celeb hotspot.
Macy Gray, Faking It star Katie Stevens, Miranda Richards, Chris Mann, Nikola Bedingfield and more enjoyed a night of music, light bites and MYX Fusions Moscatoduring the Crustacean Beverly Hills' RED HOUR Live Music Series Launch.
Lea Michele stopped by The Grove on Thursday to sign copies and promote her new book Brunette Ambition at Barnes & Noble. The Glee actress donned a blue and white jumpsuit with white heels.
Kellan Lutz and Rosario Dawson attended the Terre Blanche Hotel Spa Golf Resort in the South of France on Wednesday.
Niecy Nash snacking on Sabra grab n' go at the Trust Me premiere after party last night.
Sexy and slim Jordin Sparks all smiles while checking out hello products flavors of breath spray and toothpaste, NeriumAD anti-aging skincare and treats from Hawaiian Host Chocolates at the Billboard Awards Artist Appreciation Lounge in Las Vegas.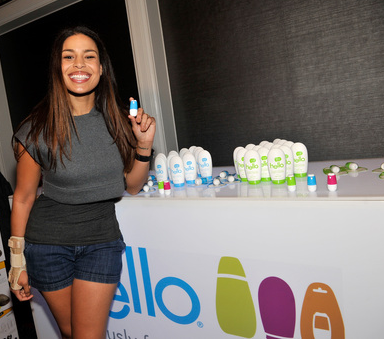 Article continues below advertisement