NEWS
Celebrities Spotted Out and About – Week of May 6
View all comments
Alison Sweeney celebrates all things beauty – including her new book OPPORTUNITY KNOCKS about a makeup artist – with Ulta Beauty and IT Brushes for Ulta.
Ryan Rottman trying Jottshots pre-packaged gel shots at Boots on Stage first annual Shindig in the Desert where guests also indulged in Rock & Reilly's new Mother's Milk whiskey.
Nashville and Filthy Preppy Teen star Chaley Rose checking out Santa Barbara's small batch Stagecoach whiskey after performing at Boots on Stage with Dre and Eminem's guitarist Curt Chambers.
Camila Alves spotted wearing Happy Plugs Rose Gold Earbuds while out for a walk this past weekend in Malibu. These metallic earbuds retail for $29.99 and are available at happyplugs.com
Country music sensation and American Idol fan favorite Kellie Pickler stopped into Austin for Rock the Roof, an event put on by Flonase, just hours before the iHeartCountry Festival. She mingled with fans, chatted with Austin radio favorites, Amy and Lunchbox from the Bobby Bones Show and gave a great performance on the top of the JW Marriott.
Fashion model and TV Personality Gigi Hadid continued her 21st birthday celebrations at the opening of The Wynn's newest nightclub, Intrigue. Gigi danced the night away to DJ Bobby French's beats with her former One Direction singer boyfriend, Zayn Malik. Rhianna was also spotted for the second night in a row in the VIP lounge.
On Saturday night, Tyga stopped by NYC's new Chinese hotspot Jue Lan Club @ Limelight. The rapper was with a group of friends and dined on Braised Oxtail Sloppy Bao Buns and Chicken Satay while girlfriend Kylie was across town getting a new tattoo.
Steven Pasquale seen enjoying lunch at Blue Water Grill in New York City.
Alicia Keys and Swizz Beatz were among the many celebrities in attendance to sip on Stella Artois Cidre at the 3rd Annual Village Fête benefiting Pioneer Works' education, exhibition, residency, music, publication and science programs in NYC.
Los Angeles Laker Nick Young stopped by Lucky Strike Live in Hollywood with a group of friends for a guys' night out last Saturday. The group enjoyed appetizers off the new Gastropub menu and competed in several bowling matches.
Jillian Michaels along with partner Heidi Rhoades received the "Let Love Define Family" award recognizing their advocacy for foster and adoption programs at the 4th annual Raise a Child Honors Gala and Fundraiser at The Jim Henson Lot in Los Angeles, CA.
Stephan Jenkins, lead singer of Third Eye Blind, recently gave a private concert in a Baton Rouge family's home as part of Make Room, a nationwide campaign giving voice to struggling American renters.
Whitney Port rocked her legs at a Schick® + Skintimate® event while shopping alice + olivia's spring 2016 collection in NYC.
This past weekend Taylor Swift was seen in Keds' White Kickstart in NYC.
Kristen Taekman (pictured below) spotted wearing the Tommy Bahama Watercolor Palmier Empire Maxi Dress and carrying a Welby Satchel bag in NYC on May 2.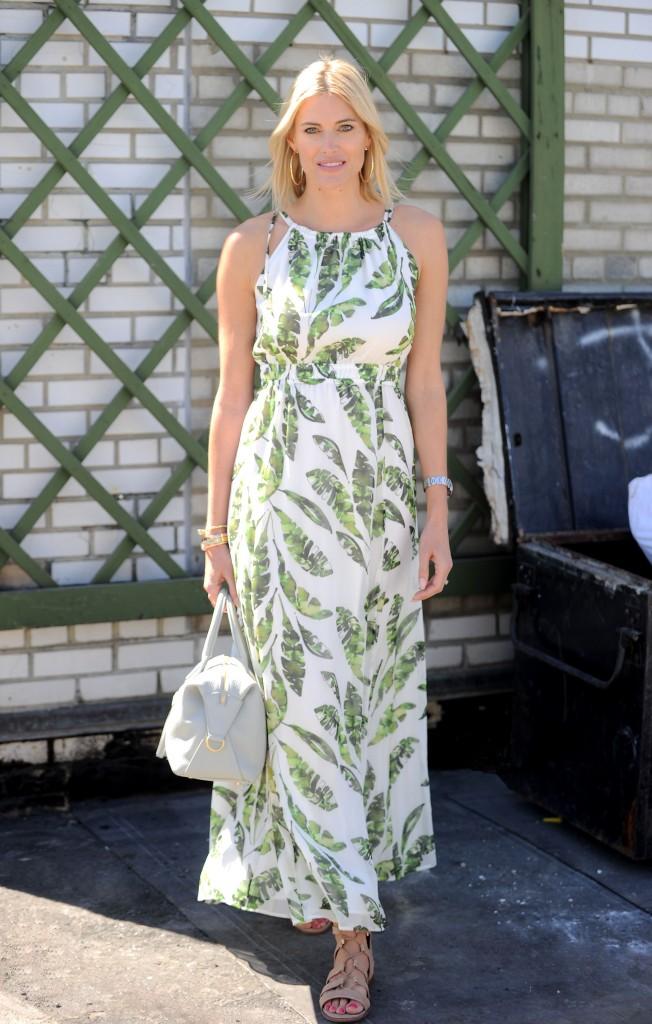 Article continues below advertisement
Thomas Rhett, Cole Swindell and Sam Hunt celebrated post ACMA's at STK LA.
Adrienne Bailon was seen wearing Simon G Jewelry to the Daytime Emmy Awards.
Bellamy Young hosted Capitol File magazine's White House Correspondents' Dinner Cocktail Reception at the British Ambassador's Residence, Washington, D.C.
Rosario Dawson at Voto Latino's "Our Voices: Celebrating Diversity in Media" Reception which uplifted Crash the Parties initiative at Hay-Adams Hotel, Washington, DC.
Christina Grimmie wore a choker from Love Culture Sunday on the red carpet at the Radio Disney Music Awards in Los Angeles.
Stunning actress Erin Gavin received a standing ovation at the Los Angeles premiere of Marilyn & Sinatra, written and directed by Sandro Monetti, before heading to Broadway.
Fetty Wap celebrated the launch of his Mobile Racing Game at Slate in NYC with 1738 and patron.
Snoop Dogg, Wiz Khalifa and Demi Lovato performed at AOL's NewFronts event outside Ambrose Beer and Lobster at NYC's South Street Seaport.
Giuliana Rancic gets seriously silly at Walgreens, the exclusive Red Nose and Red Flair retailer, in support of Red Nose Day and helping raise funds to change the lives of kids who need it most.
Mario Testino and guests sipping elit Vodka martini's at Gisele Bundchen's book launch at the Bowery Hotel in NYC.
Katie Holmes was spotted out at The Commons at Calabasas on Tuesday afternoon. The actress donned a relaxed look while she shopped, wearing a patterned summer vest top with a frilled hem which she paired with high-waisted blue trousers.
Josh Duhamel was just spotted eating dinner at Del Frisco's Grille Santa Monica with his cute blond son. He ordered the Baked Salmon with Brussel Sprouts and Grilled Cheese with Fries.
2016 TONY award nominee Zachary Levi, showed up at the weekly Morrissey Sunday party at Rumpus Room, NYC hotspot owned by nightlife veterans Gabriel Levy and Jahan Salarimatin.
Ben & Jerry Ice Cream Founders, Ben Cohen and Jerry Greenfield, handed out free ice cream to rally support for Democratic contender, Bernie Sanders at Zeppelin Hall in Jersey City on Monday.
Former Mayor Rudy Giuliani, New York Giants Hall of Famer Lawrence Taylor and Fox News legal eagle Arthur Aidala helped raise over $45,000 at The Brooklyn Bar Association's Hon. Theodore T. Jones Jr. Memorial Golf Outing at the Colonia Country Club in New Jersey on Monday.
On Thursday, Nick Cannon, Mariah Carey and their children stopped by Hard Rock Cafe Hollywood at Universal CityWalk in Los Angeles for dinner where they enjoyed a Jumbo Combo appetizer sampler, Razzi™'s Redonkulous Chicken Tenders and a Hot Fudge Brownie.
Julianne Moore, Greta Gerwig and Ethan Hawke attended the Montblanc and The Cinema Society with Mastro Dobel & Kim Crawford Wines screening of Sony Pictures Classics' Maggie's Plan - After Party.
STATE BAGS in conjunction with Twitter held a very inspirational bag drop event today with the Girls Prep Charter School in NYC. This was the first ever all girls STATE bag drop with attendance from Andi Dorfman.
Vanessa Hudgens and Laura Marano have both added Sugar Bear Hair Vitamins to their daily regimen.
Olivia Culpo (pictured below) was spotted sporting Missguided's Long Sleeve Maxi Duster Coat in Khaki while out and about in New York City.  Olivia completed the look with a pair of Alexandre Birman stilettos and a golden Jimmy Choo purse.