NEWS
Celebrities Spotted Out and About—Week of November 22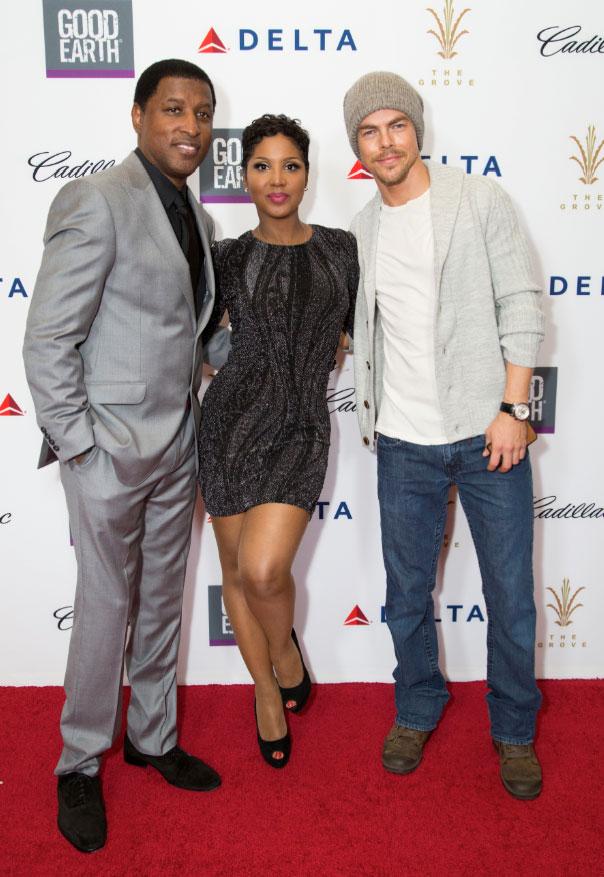 Toni Braxton gets a leg up on Derek Hough and Kenny "Babyface" Edmonds in the Good Earth Tea Star Lounge before performing at The Grove's Christmas Tree Lighting, presented by Citi, over the weekend. The Grove's 11th Annual Christmas Tree Lighting Spectacular was hosted by Nancy O'Dell and live show brought the spirit of the holiday season to life in Los Angeles with an evening of exclusive performances from A-list musicians including Mary J. Blige, Toni Braxton, Kenny "Babyface" Edmonds, CeeLo Green, Gavin DeGraw, Il Volo and Jewel.
Emmy Rossum looked effortlessly beautiful walking in Chicago on way to her Shameless set (wearing gold and diamond Tiffany & Co Atlas pendants).
LL Cool J dined at The Church Key in West Hollywood on November 11 with his manager. He ordered the Brown Butter Glazed Donuts and was overheard exclaiming, "These donuts are STUPID!" — as in AMAZING stupid.
Josh Gad celebrating the launch of his new film Disney's Frozen at The Children's Place in Los Angeles.
Tori Spelling chatting with a sales clerk at an Old Navy in Los Angeles to learn about their Overnight Millionaire' sweepstakes for Black Friday.
Gretchen Rossi and Catt Sadler donated handbags for the Bags to Benefit Charity Auction benefitting CHAMPS on Tuesday evening.
Josh Duhamel learns how to saber a G.H. Mumm bottle at the G.H. Mumm Art of Celebration – Formula 1 event in Austin, TX.
Alex Pettyfer and Jennie Garthget the Formula 1 experience with Conquest Racing during the EnV Group Formula 1 Weekend in New York.
Maroon 5 rocked Roseland Ballroom in NYC during an exclusive concert in conjunction with Malibu.
The Biggest Loser star and fitness fanatic Alison Sweeney took on the Zappos.com ½ of the half with some of her Biggest Loser colleagues. The newly brunette host was overheard saying she always recommends the Rock 'n' Roll Marathon Series because it has a distance for everyone.
Vanessa Hudgens celebrated her sister Stella Hudgens 'sweet' 18th birthday party at Beacher's Madhouse in Hollywood.
New York Yankees Derek Jeter was spotted dinning at neighborhood hot spot Hakkasan Beverly Hills last Friday.
On Monday Katy Perry stopped by Juvia in Miami Beach for lunch.
Rumor Willis spends time at a friend's house sipping on a sugar-free Miami Cocktail Co drink in Los Angeles.
Michael J. Fox received The New York Apple Award from his co-star Betsey Brandt and Spin City's Richard Kind during the 29th Annual Artios Awards at XL Nightclub on Monday.
This past Sunday, Naughty by Nature's very own, Treach provided guests at Bounce Sporting Club's Sunday Funday Party with a spontaneous performance.
Chris Brown made his debut after rehab eating dinner at Aventine Trattoria in Hollywood.
Style expert Rachel Zalis celebrated her birthday with friends like Maria Menounos, David Spade and Jerry Ferrara with a dinner party at Pearl's in West Hollywood. Guests noshed on Pearl's signature dishes and sipped on Casamigos and Reilly's Mother's Milk Whiskey cocktails.
Mario, Courtney and Gia Lopez "teched the halls" at RadioShack in Glendale. The happy family strolled the store looking for gifts for their newest addition Dominic, their loved ones and themselves out of the store's hottest gadgets and toys from brands like Auvio, SOL REPUBLIC, Beats by Dre.
Scott Disick and Adrian Garnier were both at RIO nightclub in Austin for the F1 race this past weekend along with Tyson Beckford and Sebastian Vettel, the new nightclub generated over 1 million dollars in revenue this weekend.
Nicolas Cage dined at La Cave Wine and Food Hideaway inside Wynn Las Vegas on Wednesday afternoon for a second time. When the restaurant broke news to him that they ran out of his favorite wine, the Gabriel Bordeaux Blend from Guadalupe Valley of Mexico, he joked saying, "Vince Neil must have drank it all the last time we visited."
Chord Overstreet spotted having a guys' night out at Chi Lin in West Hollywood.
Nikki Reed and Eden Sassoon catch up at the Lupus LA Hollywood Bag Ladies Luncheon. Janice Wallace, Dorothy, Kelly Stone & Sharon Stone were honored at 11th annual fete hosted by Louise Roe. To learn how you can "Get into the Loop" please visit LupusLA.org.
Article continues below advertisement