NEWS
Celebrities Spotted Out and About – Week of April 28
Usher Raymond and his table bid $50k for a live auction puppy and gave it to a lucky party goer to take home (Usher's 9 year old son has Type 1 diabetes) at the JDRF Imagine Gala at The Beverly Hilton in Beverly Hills on April 22.
Kim Kardashian West was seen carrying a Wild and Woolly phone case in L.A. Her case is the "Baillie" in sky blue mink and is handmade in New York and sourced from Farm Certified, Origin-Assured furs from Finland-based Saga Furs.
Diane Lane, Dianna Agron, Christina Ricci, Joy Bryant, Mariska Hargitay, Carol Kane, Mary Stuart Masterson, Clea Duvall, Alice Eve and more attended the annual 2017 Tribeca Film Festival Women's Filmmaker Luncheon presented by THROUGH HER LENS: The Tribeca Chanel Women's Filmmaker Program.
Chanel Iman, Jamie Chung and other desert taste-makers attended the third installment of Belvedere Vodka's Belvedere Vodka x Noisey: Behind the Scene, event series at the Ace Hotel in Palm Springs.
Sofia Vergara was spotted at CATCH LA last Friday night along with her son Manolo and his girlfriend, model Daria Ivanova. Sofia gathered with about 10 relatives on the outdoor patio to celebrate her cousin, Hernando Vergara's, birthday dinner.
Caroline Kennedy was seen stylishly passing through the lobby of The Charles Hotel, also in attendance for her father's 100th birthday celebration and for meetings at Harvard's Institute of Politics.
Angelina Jolie and 10-year-old daughter Shiloh were spotted having a girl's day out, sans the rest of the Jolie brood. The ladies skipped the usual mother-daughter mani-pedis, and instead opted for a trip to Guitar Center to stock up on new instruments. Jolie picked up a guitar and ukulele for Shiloh, who excitedly strummed her new instrument as they exited the store.
Jonathan Waxman, Marc Murphy, Ted Allen and Elizabeth Federici are all smiles at the Tuck Room in NYC for the screening of James Beard: America's First Foodie on Sunday.
Hondros co-producer, Jamie Lee Curtis, celebrated the evening with friends for a private dinner at the chic steakhouse, STK Rooftop. She was seen laughing and enjoying the night, indulging in shared plates of STK classics like truffle fries, mac n' cheese, and a special vegetarian risotto.
Adrian Grenier (pictured below) along with his mysterious gal pal, joined American Express Platinum for an exclusive preview of the Museum of Ice Cream in Los Angeles.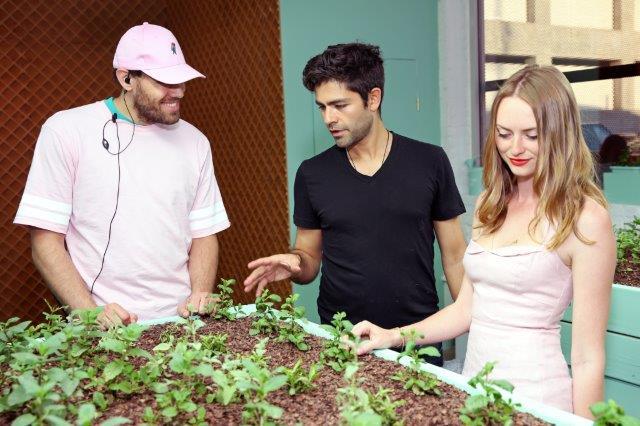 Article continues below advertisement
Justin Bieber's ex, DJ Chantel Jefferies, stops by 1 Hotel Brooklyn Bridge for 1 Hotels and mindbodygreen's Earth Day Celebration wearing a "staff" t-shirt and white corset.
Cody Simpson, Kendrick Sampson and more came out to celebrate and support Earth Day! The EARTHxGlobal Gala was presented by Earth Day Texas (EDTx), Global Green and EARTHxFilm in Dallas, Texas on April 21.
Arianna Huffington sat down with Jack Ma, founder of Alibaba, at The Charles Hotel's iconic Henrietta's Table restaurant on Friday, where she was conducting a one-on-one interview.
Ashley Tisdale and Laura Dern lounging at Topshop's Escape at Korakia event at Coachella featuring Banfi Wines.
Jerry O'Connell brought his twins Dolly and Charlie to meet Henry Winkler at WeVillage Flexible Childcare in Sherman Oaks, CA when he read his latest book in the Here's Hank series Always Watch Out for Flying Potato Salad.
American Idol finalist Rachel Crow, actress Joey King and JustJared flying JetsuiteX's Coachella pop-up together to Coachella weekend 2.
Fresh off his European tour and amid a busy travel schedule, Drake has been calling this beautiful Beverly Hills estate home - courtesy of Airbnb. This month, he's been enjoying the stunning Villa Grande Bellezza Airbnb estate before heading back to Toronto. The incredible villa is perched in the hills of the ever-popular Benedict Canyon community, home to some of the world's great music legends.
Derek Jetertees off at his annual Celebrity Invitational Golf Tournament this past weekend in Las Vegas where guests enjoyed signature drinks by Tequila Don Julio.
Real Housewives of New York star Luann D'agostino arrived in Miami with her new hubby Tom checking into the ATTON Hotel in Brickell. The pair enjoyed cocktails on the rooftop pool before preparing to meet Real Housewives of Miami ladies Lisa Hochstein and Marysol Patton.
Daphne Oz seen at Babies"R"Us supporting Chicco's #TurnAfter2 campaign.
Ayesha Curry raises awareness for food waste in the US with Glad at first-ever Salvage Supperclub dinner in L.A.
Famed pop/EDM star, Aaron Carter hosted a handprint ceremony at Planet Hollywood Times Square to celebrate his new EP LOVE and to pay homage to the Hollywood Walk of Fame and display. Following the ceremony, Carter held an exclusive meet & greet for his top Spotify listeners where he signed autographs, took selfies and answered some questions.
Fresh off of her pregnancy announcement, tennis great Serena Williams partnered with Intel for a new campaign inspiring people to Upgrade Your Game.
New York Jets wide receiver Quincy Enunwa and New York Giants linebaker Devon Kennard hosted the NFL Draft Party at The Lure Group's Slate in NYC.
Babyganics "surprised" Jenni Pulos (pictured below) at her baby shower with their Shower Squad this weekend. In addition to surprising Jenni with a basket of newborn essentials, attendees were also given gifts from Babyganics. Shower Squad is an awesome endeavor that sends a Brand Ambassador to your shower with everything a new mom needs, and gifts for the attendees.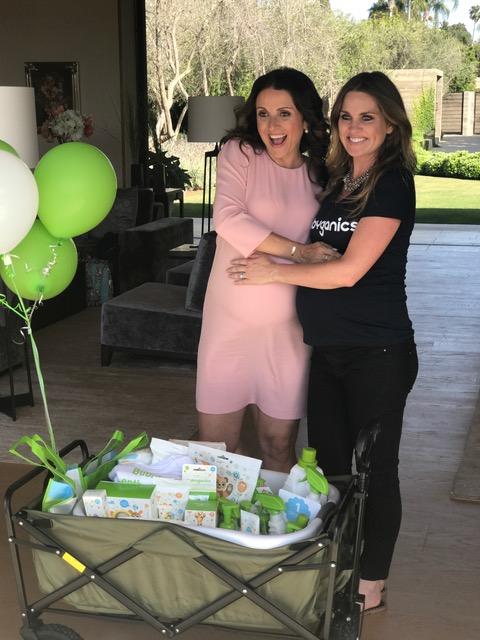 Chloe Sevigny, Ben Stiller, Christopher Abbott, Michael Chernus, Seamus Davey-Fitzpatrick, Miles J. Harvey,and Director Oren Moverman celebrated 2017 Tribeca Film Festival premiere of The Dinner at the official after party on Monday sponsored by Nespresso at White Street.
Vanessa Hudgens, The Queen of Coachella, looked festival chic in her Monogrammed Hand Embroidered Sun Hat ($96) at the festival over the weekend, while Emily Ratajkowski looked springtime casual carrying her Mini Gusset Straw Bag ($90; hatattack.com).
Babyganics "surprised" Jenni Pulos at her baby shower with their Shower Squad this weekend. In addition to surprising Jenni with a basket of newborn essentials, attendees were also given gifts from Babyganics. Shower Squad is an awesome endeavor that sends a Brand Ambassador to your shower with everything a new mom needs, and gifts for the attendees.
Charlotte McKinney recently shared a photo of herself wearing CAMI AND JAX. The actress showed off her trim figure wearing the Lola Top ($125) and Miranda Bottoms in Malibu Red ($100).
Alexander Skarsgård seen at the Unemployed Magazine Issue release at Luchini Pizzeria & Barin Hollywood.
Coach's Creative Director, Stuart Ververs, had the honor of being the 2017 recipient of the Designer of The Year award at the American Image Awards by the American Apparel & Footwear Association.
Last week Delilah Belle Hamlin rocked RUDSAK and Sami Miro x SURPLUS by BRAVADO at the Pop & Suki Collection 2 Season event in Los Angeles. The up and coming model completed her edgy street look with the Saxon Baseball Hat ($145), and Camo Blue/Grey Cropped Jacket ($75).
John Dorsey (Director), David George and Andrew Stephan celebrated the 2017 Tribeca Film Festival premiere of Year of the Scab at the official after party at The Griffin Pop-Up on Thursday, sponsored by ESPN.
Blake Lively, Ryan Reynolds, Viola Davis and husband Julius Tennon all sipped on Johnnie Walker Blue Label at their table together following Bernard J. Tyson's special toast during the TIME 100 Gala.
Comedian Leslie Jones lit up the red carpet in Forevermark diamonds at the 12th Annual Time 100 Gala held at Jazz at Lincoln Center in New York City, NY.
Emma Roberts, Evan Peters, Molly Ringwald, Barkhad Abdi, Jay Bahadur, Bryan Buckley and Coral Peña celebrated the 2017 premiere of Dabka at the official after party at The Edition Hotel on Thursday, sponsored by Tanqueray.
LuAnn D'agostino took a break from her relaxing stay at Atton Brickell Miami to visit to the Hochstein MedSpa with fellow Real Housewives stars Marysol Patton and Lisa Hochstein.
Real Housewives Dorinda Medley, Artist Peter Max and Top Aesthetic Nurse Jane Scher at a benefit for Leesa Rowland's Animal Ashram and Last Chance for Animals at The Gallery in New York City on Tuesday.
Delilah Belle Hamlin (pictured below) getting her hair done by artist Angel Alvarado with Joico colored insta-tint spray and hair jewels at the PACSUN festival pre-party during Coachella.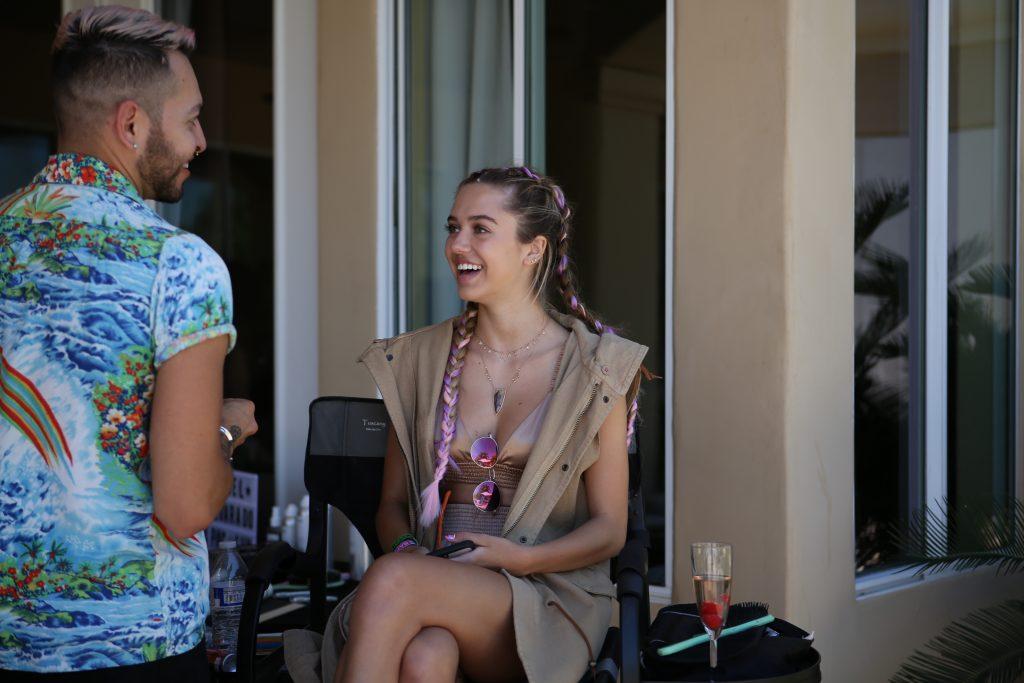 Article continues below advertisement
Rebecca Hall, Samantha Mathis, Dito Montiel and Quinn Shephard co-hosted the SAGindie Bowling Party at Lucky Strike during the 2017 Tribeca Film Festival.
David Henrie and his new bride Maria Cahill celebrated their honeymoon this week at Sandals Regency La Toc Resort in St. Lucia. The newlyweds indulged in a couples massage at Red Lane Spa and enjoyed a private candlelight dinner in their luxury suite.
Vanessa Hudgens dancing at Coachella Weekend 2 wearing Spring Sunglasses by RumbaTime in Pool.
Musician Darryl McDaniels, founding member of Run DMC, seen at The Sports & Arts in Schools Foundation's annual Speak Week event at Flushing High School. The hip-hop legend spoke to local high school students about his career and encouraged them to connect with people in lines of work that they may want to explore.
Demi Lovato sure knows how to vacation in style! The "Skyscraper" songstress posted a sizzling vacation photo on FUNBOY's Cherry Pool Float.
Wanderluxxe and Sean "Diddy" Combs celebrate the Bad Boy Documentary Can't Stop Won't Stop with CÎROC Vodka, DeLeon Tequila and Heights Entertainment at American Cut Midtown in NYC.
Last night, rapper Lil' Jon was spotted at San Diego's hottest new restaurant, Lionfish. The famed artist, who is currently on tour and performing tonight in the beach town, was seen kicking back and catching up with a longtime friend over dinner. Though best known for drinking "Pimp Juice", Lil' Jon opted for herbal tea to accompany his meal. Also located within the all-new Pendry Hotel, Oxford Social Club was the hub for Hip Hop artist Too Short's birthday celebration. Following his concert in North Park, the "Blow the Whistle" rapper sipped tequila and partied until early morning hours.
Whispering Angel rosé was the star of the Hilton Palm Springs Day Clubs, hosting a VIP Cabana and keeping the pink drink flowing during sets by Skrillex, Dillon Frances, Madeon, and more.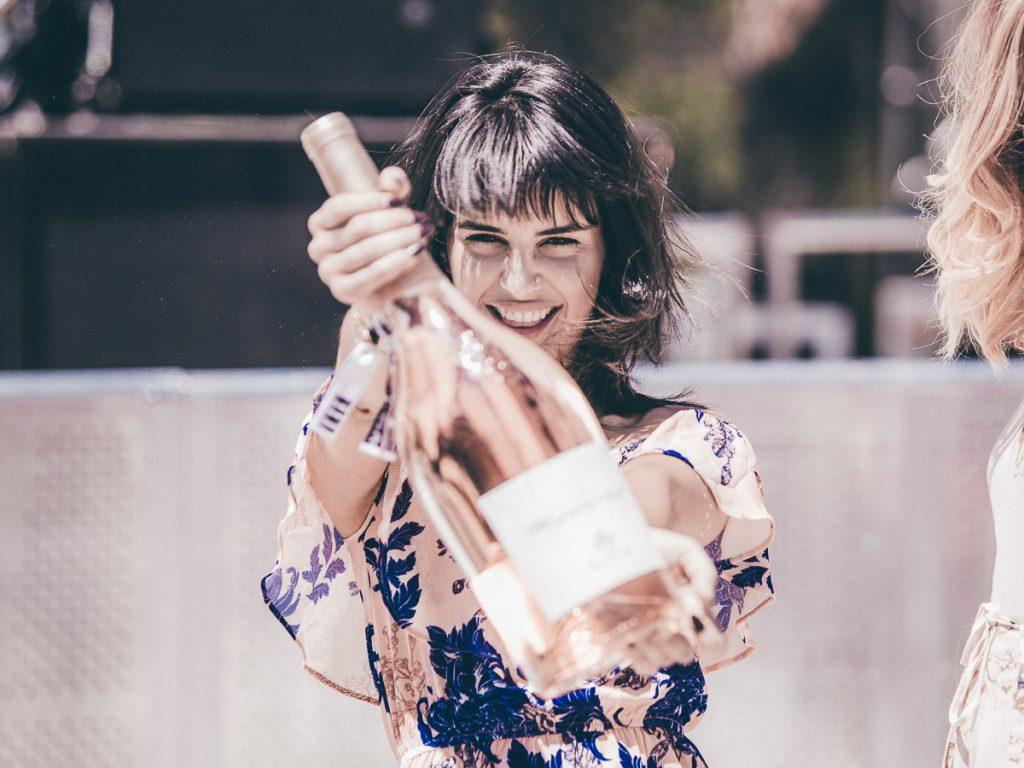 Jessica Lowndes recently wore a budget friendly dress from Rainbow in a photo on Instagram. The actress looked trendy in the blush Classic Ringer T-shirt Dress, priced at an affordable $11.
Jaime King seen carrying a Dagne Dover bag at her birthday party at Black Rabbit Rose in L.A.
Over the weekend Josephine Skriver shared a photo of herself on Instagram wearing an AC/DC themed custom SOPHODES The brand hand paints and distressed vintage denim, creating made to order personal pieces.
Stopping in for an early dinner, Jennifer Hudson was spotted at Hollywood's newest hot spot, TAO Asian Bistro on Tuesday evening. The Grammy Award-winning singer kept it sleek donning an all-black number and was joined by two friends.
On Tuesday night, Nick and Joe Jonas hosted a D'USSE Dinner Series in New York City complete with a four-course dinner and free flowing D'USSE cocktails. Roc Nation curated a guest list of powerful influencers for the brothers to meet and network with throughout the evening including famed men's fashion designer John Varvatos.
William Levy and his beautiful family enjoyed the "Suite" life at the Mets vs. Marlins game on April 14th at Marlins Park in Miami. While watching the Marlins beat the Mets 3-2, he and his son Christopher cheered for the home team while wearing matching orange Marlins baseball hats.
RHONY star Bethenny Frankel had Columbia Business School students fascinated when she spoke at marketing guru Jarrod Moses' highly coveted celebrity marketing class on Thursday in NYC. In keeping with 'Bring your child to work' Day, daughter Bryn was in the crowd as Bethenny shared her experiences, keys to success as well as her challenges.
Kristin Cavallari launches her new jewelry line Uncommon James at Fig and Olive in West Hollywood on Thursday.
Bella Hadid attended the SPRING x Morgan Lane "sleepover party" at Chillhouse in NY to celebrate the exclusive neon robes now live on ShopSpring.com along with Chillhouse's owner Cyndi Ramirez.
Laila Ali (pictured below) partnered with T.J.Maxx to launch "The Maxx You Project," encouraging women to let their individuality shine, in New York City.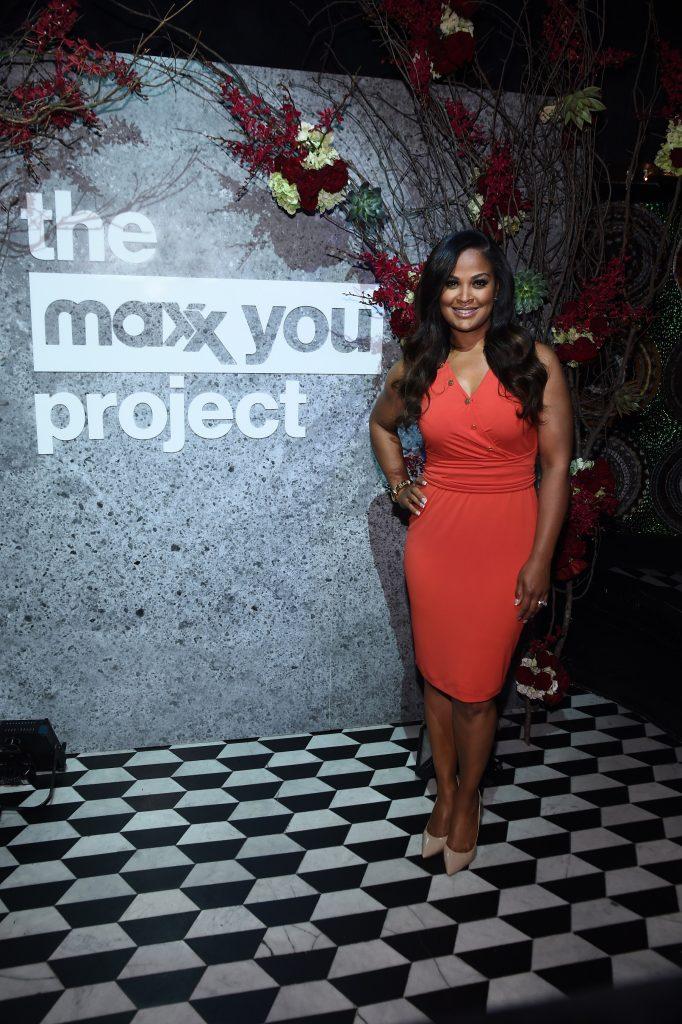 Julia Louis Dreyfus, Jerrod Carmichael, Nina Dobrev, Larry David and more attended the 2017 NRDC'S STAND UP! for the Planet benefit, where $1.4 million was raised to support the Natural Resources Defense Council's legal fund to fight climate change and defend our air, water and communities from polluters.
Hollywood heartthrob Kellan Lutz has been living it up this week at the QT Gold Coast, the official hotel of Gold Coast Film Festival. The Twilight actor was spotted visiting the hotel's Bazaar Interactive Marketplace and grabbing drinks with his entourage at the Stingray Cocktail lounge. While in town promoting his new sci-fi film The Osiris Child, Lutz also enjoyed some much-needed rest and relaxation at spaQ, a celebrity favorite for the most luxurious beauty treatments.
In honor of Denim Day 2017, GUESS and Peace Over Violence hosted a live concert at the Third Street Promenade in Santa Monica with performances by Official Denim Day Spokescouple, Aloe Blacc and Maya Jupiter.
Emma Watson, Tom Hanks, Rita Wilson, Bonnie Wright, Karen Gillan, Ellar Coltrane, Mamoudou Athie, Amir Talai and James Ponsoldt (Director) celebrated the 2017 Tribeca Film Festival premiere of The Circle at the official after party at American Cut Tribeca on Wednesday. Guests were seen sipping on Chloe Wine Collection, EFFEN Vodka and Heineken throughout the evening.
HAIM took over Canter's Deli to premier their latest music video Right Now, directed by Paul Thomas Anderson. Famous friends, including Brie Larson, Jonah Hill, Rashida Jones, Kyle Mooney and Jennifer Meyer joined the fun, enjoying a HAIM's hand-selected menu that included matzo ball soup, grilled cheese, pastrami sandwiches, cookies, and SVEDKA Vodka cocktails.
Rick Ross aka "The Boss" lit up DAYLIGHT Beach Club in Las Vegas for the return of the infamous Eclipse Ross, who has been out promoting his ninth studio album Rather You Than Me, arrived in true hip hop fashion in a Rolls Royce and large entourage.
Camila Alves attends the MJ&M Event presented by Target in Austin, Texas.
Bravo TV alum and WBLI radio personality Chanel Omari stopped by the Rhode Show talking about life at Princesses Long Island and all things Pop Culture.
Kelly Rowland joins BAND-AID® Brand for a dance class in NYC to kick off the new #StickWithIt campaign.
Ice-T, Coco Austin, and Coco Rocha attended the CYBEX MIOS Collection NYC Launch Last Night in NYC.
Jesse Tyler Ferguson posted a photo on Instagram sharing his custom artwork by artist Marco Lorenzetto. Lorenzetto worked directly with the Modern Family actor to create a one-of-a-kind custom diptych painting.
Dos Equis' Most Interesting Man and supermodel Nina Agdal have a drink at Cosme in NYC ahead of Cinco de Mayo.