NEWS
Celebrities Tweet With Excitment Over Royal Wedding!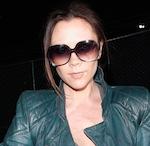 Up until today, the entire world anxiously waited to watch the royal wedding of Prince William and Kate Middleton unfold live on television. Celebrities from across the globe took to Twitter almost immediately to voice their excited reactions as the nuptials took place!
Nicole Richie's hubby Joel Madden swallowed his pride and admitted that he woke up early just to watch the ceremony!
OK! NEWS: WATCH PRINCE WILLIAM & KATE MIDDLETON LEAVE WEDDING RECEPTION DRIVING AN ASTON MARTIN
Article continues below advertisement
"Got up early to watch the royal wedding. Not gonna lie i got a little choked up. I'm a sucker for a good love story. Congrats Royal Family!" Joel Tweeted this morning.
While the rocker shed a few tears of joy as he watched, his brother Benji Madden took a more comedic approach to the day, Tweeting, "Oh Snap! I just found my invite to the Royal wedding, I better RSVP&book my flight. Now what's the Date....DOH!"
California "gurl" Katy Perry threw out a nod to the marriage with her manicure, posting a Twitter picture of her nails decked out with photos of the royals. "In honor of the Royal Wedding, I present you... My royal NAILS! CONGRATS!"
OK! NEWS: THE OTHER STARS OF THE ROYAL WEDDING - EYE POPPING HATS GALORE
Miley Cyrus, although entranced by the actual wedding, seemed a bit distracted by eligible bachelor Prince Harry!
Article continues below advertisement
"Wow wow wow #royalwedding soooo romantic. FLAWLESS. = How lucky is Kate? Its every girls dream to be a princess. Harry??? haha jkjk," Miley Tweeted on Friday.
Victoria Beckham, who was lucky enough to be invited, voiced her British pride the day before she attended the Westminister Abbey ceremony, with hubby David Beckham, exclaiming on Twitter, "London looks beautiful!!!we are so proud to be British! X VB x."
OK! NEWS: PIPPA MIDDLETON & PRINCE HARRY - WOULDN'T THEY BE A FUN COUPLE?
Fellow Brit and CNN host Piers Morgan took to Twitter to honor the late Princess Diana as he took in the anticipated spectacle.
"She would have been so proud of her boy today #DianaRIP," Piers wrote before making a little suggestion for Kate's younger sister Pippa Middleton. "Prince Harry & Pippa Middleton - anyone else thinking what I'm thinking?"
Looks like Miley may have to move over and make room for Pippa!