NEWS
Celebrities Who Need to Join Twitter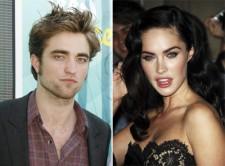 Miley Cyrus may be calling Twitter quits, but that doesn't mean other celebrities who've never Tweeted shouldn't start now! PopEater created a wish list of the top celebrities that they hope will get a Twitter account. The time has come for these stars to start Tweeting!
Robert Pattinson: Okay, so we know Rob really is against Twitter, but everybody wants to know what he and Kristen Stewart really talk about. "@KStewart Did you see those fans?! When did we get famous?" And of course, he'd probably Tweet about his love life. "Girls only love Edward. :( "
Article continues below advertisement
Megan Fox: Whenever she speaks she makes you question her intentions, so if this foul-mouthed bombshell had a Twitter account she'd probably keep us pretty entertained. She'd probably say something like, "I just beat Shia at a burping contest," or "Sorry @MichaelBay — Seriously, I love you (and please don't kill me off in the new Transformers.)"
Angelina Jolie: She already has so much on her plate being an actress, mother of six, ambassador and lover so why not add Tweeter? "@JenAniston We're cool, right?"Or she'd probably use Twitter to talk about charity work like, "Just visited orphans in Jordan. They need your help. Here's how you can give back..." Can you imagine if Brad Pitt joined too? They would rule the Twitterverse.

Matthew McConaughey: He said he'd never join, but it would be fun to see him post pictures of him and his little surfer son, Levi. "No shirt. No shoes. No service? Can we pass a bill to fix that?"
George Clooney: We love him on camera, but would we love him on Twitter? Not so sure, but would be great to find out! "@BradPitt Don't worry man — I won't tell Angelina you almost left without Knox." or "Date night with Elisabetta. Am I finally settling down?"