NEWS
Celebrity Appearance Fees Are on the... Decline?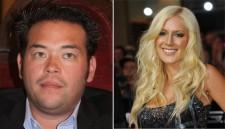 Jon Gosselin requested $12,000 to guest host a Flordia radio show and Heidi Montag reportedly wouldn't attend her sister Holly's birthday party without being paid. Since making appearances does take time and work, it makes some sense that celebs should be paid, but PopEater asked how much?
Jon's rep explained why he requested a fee for appearing on the radio and said, "Jon's name and appearance on your show will instantly draw press."
Article continues below advertisement
The show had already offered Jon two round-trip tickets, limo service and a hotel room and though that should be enough for Jon. The host of Tampa's MJ Morning Show told TMZ he "fell out of his chair" when Jon requested a $12,000 fee.
Apparently, this fee request for appearances is completely routine for many celebs for any type of event or even just for a night on the town.
Though the fee may seem outrageous at first to the people asking for their appearance, it's actually less than celebs were charging before. Reality television appearance industry aren't making as much money as they used to.
Reality television stars use to be able to charge up to $25,000 for a speaking event of appearance on a hit show back in 2007, according to a Forbes report. Now the number has dropped, partially because of the increase in the amount of reality shows. Fees for speaking events are now between $5,000 and $10,000 and meet and greets are between $1,000 and $3,000.
Competition is getting tougher for reality stars, but big name celebrities can charge six figures for their appearances. The All American Speakers booking agency website said Billy Crystal, Donald Trump, Dr. Phil McGraw, Ellen DeGeneres, Jerry Seinfeld, Lance Armstrong, Larry the Cable Guy, Robin Williams and Tim Allen can charge $200,000 or more for appearances.
Stars who list their appearance fees as $100,000 or more include: Ali G, Chris Rock, Conan O'Brien, Jessica Simpson, Martha Stewart, Simon Cowell and Stephen Colbert.
So, who's crazier, Jon or Jerry? Neither? Both?