NEWS
'Celebrity Apprentice': And Then There Were Two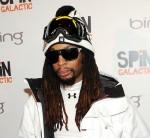 Last night was a pivotal episode of Celebrity Apprentice when The Donald fired not one but two would-be finalists! In fact, Donald Trump brought back Joan Rivers, Bret Michaels and Piers Morgan to interview the final four which soon became known as the final two as they head into the finale next Sunday.
OK! VIDEO: WATCH TINA FEY AS SARAH PALIN TAKE ON DONALD TRUMP ON SATURDAY NIGHT LIVE
As for the first firing, that one was a no brainer. Lil Jon got the boot after he mentioned John Rich and Marlee Matlin would be finalists, thereby prompting the three former winners to question his own confidence. According to PopEater, Donald told Lil Jon, "My three winners hated your answer when they asked you who should be in the finals and you didn't say yourself."
Article continues below advertisement
OK! VIDEO: WATCH JIMMY FALLON TAKE ON DONALD TRUMP'S REACTION TO OSAMA BIN LADEN'S DEATH
Next up? Meat Loaf got chopped. Although Donald mentioned Meat Loaf's emotions are "beautiful," from a business perspective he added "too much emotion can also not be good." After he got fired, Meat Loaf high-fived the elevator operator and thereby set the stage for next week.
With John and Marlee remaining in the boardroom, who do you think will ultimately win?