NEWS
Celebrity Apprentice: The Battle is On!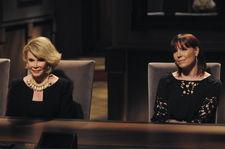 When Annie Duke takes on Joan Rivers on the live finale of Celebrity Apprentice Sunday night, she won't just be looking for the win, but she's also ready for an apology!
On the April 26 episode of the series that saw the firing of Melissa Rivers, daughter and mom Joan resorted to calling their former teammate names and branding all poker players "beyond white trash." Oh, snap!
"I'm no longer taking the things she said about me personally," says Annie, who last encountered Joan as they completed their final task last November.
Article continues below advertisement
But it's Joan's characterization of the entire poker community that still has the card champion fuming.
"They definitely didn't deserve what she said," she declares. "There are 70 million of them and they are all really pissed off now."
As for the final task rolled out on Sunday, Annie says that it is a battle of ultimate proportions.
"I stand in the way of the Joan Rivers' treating people poorly bus, and I little get a little run over by it," Annie teases.
"There are things that happen in the finale that are not in my control that she makes happen. I wasn't expecting that."
And Annie isn't expecting to hear words of regret from Joan this weekend when the show broadcast live from New York City's American Museum of Natural History.
"No doubt there will be some sort of a showdown," Annie theorizes.
"Joan's going to attack and I'm going to defend myself and it's going to some create some drama."
Double snap! I'll be in the audience, so I'll be sure to bring you back all the commercial break gossip!
Celebrity Apprentice, season finale, airs Sunday, May 10 at 8 p.m. on NBC.