NEWS
Celebrity Apprentice Ouster: Scott Hamilton speaks!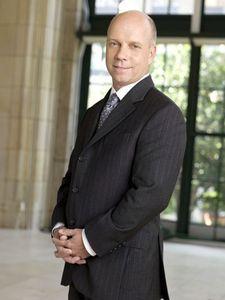 The Olympic athletes always seem to get a short ride on Celebrity Apprentice (remember Olympic softballer Jennie Finch?).
So is the case for ice-skating legend Scott Hamilton, who was booted off the show Sunday night after losing the Zappos.com superhero task.
Scott rang up the TV Fanatic to explain why he should have never been project manager in the first place, and where things stand between him and fellow KOTU player Tom Green.
Article continues below advertisement
Can you believe you were out of the game so early?
I would have liked to have stayed longer. It was totally against my strategy to be a project manager that early, and I would have never taken on a marketing task. You're so vulnerable to the client and opinions, not like a fundraising task.
You were assigned to create a superhero for Zappos.com. How did you wind up naming yours "EEE?"
We were over an hour late presenting a name, and the producers told us they weren't leaving the room until we did. And we had nothing. I kind of went with knowing it was quirky and weird, but thinking e-commerce, you've got the E in there. All I needed to do was put a "Z" in front of those three "E"s and we would have won, I truly believe that.
Do you think Tom was really the downfall of your task?
He was performing. Look at the way he is in the billboards, he's in a devil's costume; he'll do anything to win this game. He's known for being out of control, and he pretty much was. We were all pretty much in agreement that the hero should be a female character, and he kept presenting the same idea, this Zorro character on a horse. He pretty much wore me out with that.
Article continues below advertisement
Have you and Tom made up?
I have nothing but love for Tom Green. As we came out of the boardroom, I told him, "Please tell the guys I'm sorry I let them down, and I'll see you in L.A." when it was over, it was over. I harbor no ill feelings.
Will you still shop at Zappos.com?
I never have, but now that I know the brand is out there, it's really cool, I think I'll check it out.
Who do you think will win?
Hard to say. Just on who won last year, Piers Morgan, the way he won was being kind of mean. In that regard, I think Joan Rivers has set herself up for that role. Joan being a tough New Yorker, I think she'll go really far in the game.
Celebrity Apprentice airs Sunday at 9 p.m. on NBC.