NEWS
Celebrity Apprentice Winner Speaks!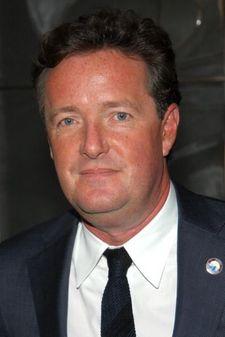 Last night as I sat in the third row balcony of Studio 8H for the live finale of The Celebrity Apprentice, I noticed that finalist and country singer Trace Adkins' wife and daughters were sitting a few rows away from me. Coincidence? Maybe. By the end of the night, British tabloid journalist and America's Got Talent judge Piers Morgan — who raised nearly a half million dollars for his charity, the Intrepid Fallen Heroes Fund — claimed the Celebrity Apprentice crown and a $250,000 grand prize donated to his cause. And his mum was seated on the studio floor!
Article continues below advertisement
Piers believes the title was fairly earned. "I had won the most challenges and raised more money than all of them put together. I deserved to win on a business level, but I also realized that wasn't the only criteria," Piers told me at the Apprentice after-party. "What I think swung it for me was the soldiers coming on stage and reminding people how important that charity was."
Piers doesn't deny his evil persona that unveiled onscreen. "I don't think you can hide from the camera or not reveal all your characteristics. I'm quite happy with the way I came over," he said. "I like to laugh, I like a scrap and I like to win. I like to raise money." As for his on-going feud with Omarosa, Piers would only exclaim, "I don't ever want to hear that name in my life again!"
Now my mama goes crazy every time I do something special. How did Piers' respond when her baby won? "My mom was very thrilled," Piers shared. "She's never been to America in her life, she hates flying and she flew out just for this. I'm really pleased to have her here."
Supermodel Carol Alt was the lone eliminated Apprentice contestant who supported Piers before Donald Trump made his final decision. "You got to hand it to Piers; he raised a ton of money," she said. But Carol declares the outcome would have been much different if she and Piers had gone head-to-head in the final challenge. "I would have mopped the floor with him, in four-inch heels and a corset," she laughed.