NEWS
Celebrity Chef Travis London Shares His Guilt-Free Vanilla Cupcake Recipe!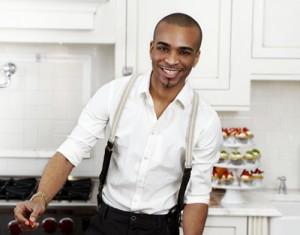 Travis London's cooking is setting a new standard for flavorful food that's good for you, too. Travis has devoted himself to healthy living, and after attending culinary school, he started his company, Healthy Chic Eats. Now he cooks for stars like Nicole Richie, Justin Timberlake and Jessica Alba!
"Eating my way is entertaining, delicious and healthy," Travis tells OK!.
And his recipes, including sugar-free treats, are mostly organic.
Article continues below advertisement
"One of my specialties is good-for-you cocktails. Reports say consuming organic alcohol decreases hangover symptoms," Travis shares. "And for each bottle you buy of Crusoe Organic Rum, they provide a month of clean water for people in need. Now that's a healthy, chic drink!"
Visit HealthyChicEats.com and for Travis' free daily newsletter and if you are eager to bring one of his signature sweet treats into your home, follow the recipe below!
Sugar-free Gluten-Free Vanilla Cupcakes (Makes 12)
Ingredients
• ½ cup coconut flour, sifted
• ½ teaspoon Celtic sea salt
• ¼ teaspoon baking soda
• 6 eggs
• ½ cup grapeseed oil
• ½ cup agave nectar
• 1 tablespoon vanilla extract
Directions
Preheat oven to 350. Butter and flour cupcake pans and place in refrigerator. In a mixing bowl combine flour, salt and baking soda. In another bowl whip together eggs with grape seed oil, vanilla and agave nectar. In a mixer combine wet and dry ingredients until smooth. Divide batter evenly into each cupcake mold. Place in oven and bake for about 20-25 minutes. Once done let cool, then top with frosting and/or fresh fruit.