NEWS
The Celebrity Moms of 'The Talk' are "Flying Without a Net"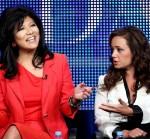 The ladies of the The View better watch out — they've got some competition with The Talk, which premieres this Monday featuring six female hosts including Julie Chen, Leah Remini, Sharon Osbourne and Roseanne's Sara Gilbert.
Holly Robinson Peete and Marissa Jaret Winokur complete the line-up of the CBS show that aims to take a look at current affairs and other events through the perspective that only motherhood brings, reports ET Online.
Article continues below advertisement
OK! NEWS: KELLY OSBOURNE SAYS "GOOD RIDDANCE" TO INK
How do the women feel about starting the show? "I love the idea of going live. It terrifies me and electrifies me at the same time," says former 21 Jump Street star Holly. "I feel like the 'flying without a net' thing raises the level of energy, but I'm scared — a little bit."
Big Brother host Julie adds: "My heart is pounding, but pounding less and less each time, so hopefully by Monday it's going to be a good nervous energy.
OK! NEWS: MARISA JARET WINOKUR ON BRISTOL PALIN: "I'D LOVE TO GET MY CLAWS INTO HER"
But Marissa, who starred in Hairspray on Broadway admits, "I'm not scared at all. I'm really excited. I want to get started. I'm like, 'Let's go with it. I want to bring joy, I want to bring energy, let's go!'"
What will we learn from the six moms on Monday's show? "Sara's very shy, which is so ironic, because this show is Sara's idea," says Julie of her new co-host. "Leah is loyal beyond belief and a girl's girl."
Article continues below advertisement
OK! NEWS: HOLLY ROBINSON PEETE ADMIRES THE COSBY MOM
Sara adds of Leah, "She's so warm and supportive, and anytime you feel like you need someone to help you see things clearly, she's such a good friend."
Of Julie, Sara says, "you'd think she would be more like me — more reserved about, you know, getting used to revealing things — but she is actually more of an open book and eager to share herself in a way that I think is really going to be exciting for people."
OK! NEWS: ELISABETH HASSELBECK JOINS GOOD MORNING AMERICA
Leah calls Julie, "Cool and funny and self-deprecating," while she calls Marissa "a gossipy, fantastic, delicious specimen of a person." The former King of Queens star wants to personalize The Talk set: "I want to warm it up with some family photos of our kids," she says.
Osbourne matriarch Sharon says: "I love a good gossip. And I always tell people when they say, 'Now don't tell anyone,' I go, 'Well, then don't tell me.' And they tell you anyway. It's like, 'Hey, I'll tell everybody!' And they go, 'No you won't.' … Yes I will.