NEWS
Celebs Glam Up For CFDA Awards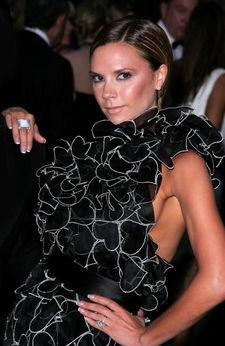 Star power is in full effect for the CFDA Awards, held at the New York Public Library.
Fashionistas don inspired gowns as they accompany – and sometimes fawn over -- their designer on the way into the gala event sponsored by Swarovski.
"Victoria looks amazing, and that's all I really care about," Marc Jacobs says. "Who could compare to Victoria Beckham? There is no one else."
The mother of three repays the compliment. "What Marc does, he does beautifully," Posh Spice says. "To wear his dress is a huge honor. I love this dress. It's great for me. Being here with Marc is a huge honor. It's very, very exciting for me. I'm sure it's going to be magnificent."
Article continues below advertisement
Ooh, there's Tony Parker towering over Eva Longoria Parker, who is dressed in a pink frock. "Does she look beautiful tonight?" a reporter asks. "Always," he says with a shy smile.
Posh Spice isn't the only star who is thrilled to be on the guest list tonight. Hilary Duff says, "It's my first time here, and I feel very glamorous."
Hey, it's my new pal Jason Lewis! Who is he most excited to meet tonight? None other than his Sex And The City love interest Kim Cattrall. "Maybe I'll go have a drink with her right now," he laughs, before asking the impeccably-dressed eight-months-pregnant reporter for her due date. "It's a night full of beautiful people wearing nice clothes. It's not really that bad."
The pregnant reporter also gets some love from Amy Poehler. They trade congratulations on their respective babies-to-be. How's Amy feeling? "I feel good," the SNL star says.
Oh, look, it's Diddy. "How you doin'?" he asks me as he plows through. He mugs with Andre Leon Talley and Naomi Campbell. Hey, here's Lil' Kim … I love her purple dress. And now, the men's-suit wearing Olsen twin is chatting it up with Eva Mendes.
Article continues below advertisement
Meanwhile, Katie Lee Joel says her Fred Leighton dress is Billy-approved. "He always likes what I wear," she says. What is she excited about? "Just looking at what everybody has on. I love fashion, and this is an incredible night. I'm already catching all sorts of things I like. This place is a great prediction of where fashion is going to go in the future." And, with all that cooking, how does she maintain her sleek physique? "Exercise, exercise, exercise," she says. "I do spinning, I run and I do a lot of yoga."
Kim Raver's two kids are at home tonight, but they watched her get ready.
"My son is so sweet," she says. "He told me I look like a zebra tonight. I think it's so great that he's got an opinion. I love it."
Maggie Gyllenhaal is also enjoying a mom's-night-out from daughter Ramona.
It's showtime! Francisco Costa for Calvin Klein wins the top prize. Tom Ford, Tory Burch and Carolina Herrera also win big.