NEWS
Celebs Mourn Farrah Fawcett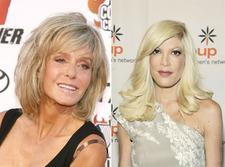 As the news of Farrah Fawcett's passing circulates throughout the entertainment community, Hollywood is reacting to her death.
Tori Spelling, whose father Aaron Spelling created Charlie's Angels, released a statement saying: "Farrah was an inspiration to all and had the most amazing spirit. She was one of the kindest, sweetest, and funniest women I've had the privilege of knowing and I'm proud to have called her a friend. Her smile will be greatly missed. My thoughts are with her family."
Article continues below advertisement
Alana Stewart, Farrah's best friend, also released a statement: "There are no words to express the deep sense of loss that I feel. For thirty years Farrah was much more than a friend, she was my sister, and although I will miss her terribly I know in my heart that she will always be there as that angel on the shoulder of everyone who loved her."
Other celebs took to their Twitter pages to express their grief:
Denise Richards: pray for farrah and her family..so sad...my heart goes out to all of them..
Khloe Kardashian: Farrah Fawcett passed away... Say a prayer for her family please. So sad when anyone passes!!! God bless all who have lost anyone special!
Joel Madden: Rest in Peace Farrah
Nicole Richie: Rest In Peace Farrah
Soleil Moon Frye: RIP Farrah. Your courage inspired us all.
Brooke Burke: So sad, so young, an icon. Love to her family...