NEWS
Celebs pop up for La Dolce Vita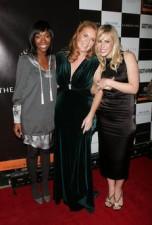 Brandy, Natasha Bedingfield, LL Cool J, Jason Lewis, Emily Mortimer, Anthony Fedorov and Mario step out for La Dolce Vita in aid of the Sarah Ferguson Foundation taking place at NYC's Cipriani Wall St.
Just before Aretha Franklin performs songs including R.E.S.P.E.C.T. and Natural Woman and we nosh on beef with potatoes and string beans, the stars stop to chat.
"I am a huge Aretha Franklin fan," Natasha gushes. "I listened to her music like crazy growing up. Hopefully I'll get to meet her but even to see her sing live is amazing."
Article continues below advertisement
Designer Marc Bouwer, who clothes Angelina Jolie, Jennifer Lopez and Beyonce, dresses the models who line the steps outside. The beauties try their best to hide the fact that they are freezing in their black cocktail gowns on this brisk evening.
"Black is expensive and it never goes out of style," Marc tells us. "When you're in a hurry to make choices and you don't want to think too much, black is the answer to everything. It's slimming, sexy and sophisticated."
Here comes Sarah. "Being in the limelight, like tonight, means that I can get the voice of children all over the world out. We can really make a difference. I can be the voice of silent whispers. For the child that's in Liberia who has to eat snakes because there's no food left, no education and no healthcare, I think that child needs a strong advocate raising awareness and making a difference so that we can build those schools, build the healthcare and really give that country – or any country -- a chance."
Article continues below advertisement
LL gives the Duchess a nudge. "He's the coolest rapper," she giggles. "Education of children, he's great on that."
LL gets a little help from the burly bouncer who is blocking the red carpet when asked about what artist he's into these days. "I like the song Put Me To Bed by J. Holiday," he says, artist courtesy of bouncer.
Jason, who says he won't start filming Sex And The City: The Movie until later this month, dodges most movie questions, but turns serious when asked about his favorite cast member. "Cynthia Nixon is the best actor on the whole show," he says, before wishing us a good night.
Meanwhile, Emily is enjoying a mom's night out from son Sam, 4.
"He's recovering from having been a chicken for Halloween," she tells me. "Super Chicken. He wanted to be a chicken, so we sent off for a chicken suit made of real chicken feathers. I think ten chickens must've been really mad in the construction of this thing. Then he decided it was too itchy and it wasn't cool, and so we had to find a way of making him wear it because it was extremely expensive, so we converted him into Super Chicken. He got a mask and a Superman cape, and he was the hit of Halloween. People kept saying 'Super Chicken!' when I took him trick-or-treating. It's like we invented this whole new character called Super Chicken. It's amazing."
Article continues below advertisement
Brandy is accompanied by brother Ray J. How is she coping after the tragic events that unfolded with her 2006 car accident? "I'm good," she says. What tips would she give someone going through a tough time? "Just believe that everything will be OK. And think positive. Positive thinking changes your whole world, that's for sure."
Oh, and here's American Idol 4's Anthony with girlfriend of eleven months Elisa Rodriguez. How will they celebrate their one-year? "We haven't thought about it, but we'll do something special. Every month we forget about our anniversary."
How is Mario enjoying the good life? "Being able to enjoy every moment of this thing, man," he tells me. "I'm a perfectionist but I try to enjoy what I do at the same time without putting too much pressure on myself to be perfect. I also try to give back. We're here tonight to give back and spread light over the positive things. I would definitely say that's the good life, being able to give back."
The beef is calling … time to start the show.