NEWS
Celebs Sparkle at Chanel Event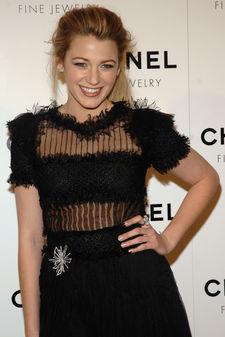 Blake Lively, Selma Blair, Julia Stiles, Josh Lucas, Ellen Pompeo, Helena Christensen, Christy Turlington and Ed Burns turn out to toast Chanel Fine Jewelry's Night Of Diamonds at The Plaza in NYC.
"I love Chanel so much," super-chatty Blake says. "It's everything. It's the epitome of what a lady should be. It's class. I have the shoes, the jewelry, it's really a problem. They say it's an addiction. Some people take drugs; I do stuff with Chanel."
Article continues below advertisement
She adds, "The bags are a problem. I just got one right before I came here. I just got this big, beautiful, leather clutch that says Chanel on it. It's black. It's actually written out Chanel instead of the CC, which you don't see very often. That was really exciting."
Seconds after Selma vogues for the cameras, she agrees that diamonds are a girl's best friend. "I bought myself a diamond ring last week. It's a present for myself, but I have a lot of diamonds that friends have given me through the years and that's what means the most." She talks about her first Chanel item. "I had a Chanel bag when I was about 16 that was my mother's that I infiltrated from her wardrobe. I thought I was really hot stuff."
Christy is thrilled to be at The Plaza. "I remember classic times having tea in the atrium area. I just can't wait to be able to do that with my daughter Grace, 4. She's getting to the age where she'd like that sort of thing. I did that with my mom and my grandmother. It's a classic thing to do New York if you're a girl or a lady."
Christy and hubby Ed can't wait for the writers' strike to be over because – hidden talent alert – she is a member of the Writers Guild! They even wrote a script together.
Helena can't wait to see the refurbished landmark. "I've gotta run," she cries.
As newlywed Ellen Pompeo grasps onto hubby Chris Ivery, Josh literally runs into the press area, knocking into the velvet rope. "Thanks guys," he shouts. Who is he rooting for in the Super Bowl? "Giants," Salma Hayek's ex says on his way into the private dinner. Whoa… he looks like Matthew McConaughey.
Here's Tula-clad Julia, who is the only gal who doesn't wear Chanel to the designer's event. "I'm running late," she says, as she and her beau dash through. Tsk, tsk.