NEWS
Celebs Tweet Reactions to Exotic Animal Killings in Ohio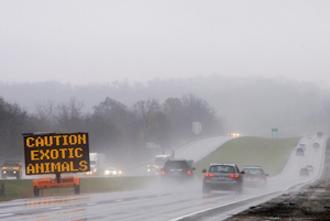 Before committing suicide yesterday in Ohio, Terry Thompson opened the cages for his exotic animal park which encompassed lions and tigers and bears, oh my! Literally. After letting them run loose in Zanesville, Ohio, the Muskingum County Sheriff's Department shot 49 of them dead. As a result, celebrities have Tweeted their reactions.
Stars shared their thoughts on Twitter ranging from the Millionaire Matchmaker Patti Stanger to Dancing With the Stars judge Carrie Ann Inaba.
Article continues below advertisement
Even wildlife expert Jack Hanna recognized "public safety has to be the first priority."
Legendary guitarist Slash Tweeted, "I get the situation, but there's no way it was totally necessary to exterminate 49 loose exotic animals in Ohio." Patti also added her thoughts, wondering why the animals weren't tranquilized. "Shocked about the exotic animals killed in Ohio...why didn't they tranquilize them?"
Carrie Ann agreed. She Tweeted, "So upset about what happened in OHIO!!! I think they could have tried a little harder to save the animals. It wasn't their fault :("
Samantha Ronson added, "Did they really have to kill them?"
Talk Soup's Joel McHale took a lighter approach and Tweeted, "Monkey w/herpes still loose in Ohio.Q: How do they know? Did dead owner leave a note? 'Monkey has herpes. Good luck!'"
Article continues below advertisement
Meanwhile, according to E! News, Jack expressed his sadness.
"I am so saddened by the tragedy in Zanesville, OH. The Columbus Zoo and Aquarium, the Wilds and I are doing all we can to help the situation on the ground," he wrote. "As always, public safety has to be the first priority. Our team is hoping to assist in the safe rescue of as many of these animals as possible."
In fact, he said they did the right thing.
Jack told Diane Sawyer, "I'm sorry to say, but what the sheriff did had to be done. Otherwise, we would have had carnage out here in Zanesville, Ohio."
PETA also released a statement.
"The shooting of dozens of exotic animals in Zanesville is a tragic example of just how wrong things can go when people are allowed to keep wild animals. PETA hopes that this will serve as a wake-up call to Ohio Governor John Kasich, who earlier this year refused to extend an emergency ban on exotic animals in the state that had been put in place by his predecessor."