NEWS
Celine Dion Believes "Drugs" and "Show Business" Killed Whitney Houston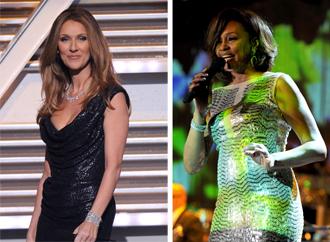 Article continues below advertisement
"It's just really unfortunate that drugs, bad people, bad influences took over her dreams, her motherhood," Celine told Good Morning America of Whitney, who has an 18-year-old daughter Bobbi Kristina with her ex-husband Bobby Brown. "When you think about Elvis Presley, Marilyn Monroe, Amy Winehouse and Michael Jackson . . . To get into drugs like that for whatever reason — because of stress, bad influence, whatever."
Celine says that Whitney was "an amazing inspiration," but took the wrong path following her success and stardom, succumbing to the various temptations involved with "show business."
"What happens when you have everything? Love, support, motherhood… Something happens that I don't understand," Celine added. "That's why I'm scared of show business, of drugs and hanging out. That's why I don't go to parties!"