NEWS
Chad Michael Murray Loves '2 Broke Girls': Kat Dennings Is "Great On It"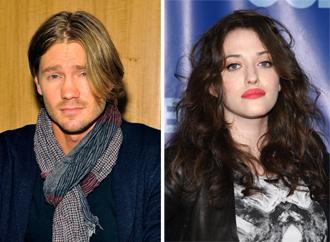 Chad Michael Murray has a secret to reveal… he's a big fan of Kat Dennings' 2 Broke Girls!
The hot actor revealed this exclusively to OK! at Barnes and Noble in NYC where he signed copies of his new book Everlast for some lucky fans.
He worked with Kat on his new film about "To Write Love On Her Arms," a movement dedicated to helping people who are dealing with depression, addiction, self-injury and suicide that celebrities such as Miley Cyrus have worked with.
Article continues below advertisement
"She's really good in this film. Right now it's temporarily named Renee, I don't know what they're going to name it, but it's another socially important film. It tells the true story of how the foundation was created, To Write Love On Her Arms, and I play the founder Jamie Tworokowski."
He also supports his co-star on her hit CBS comedy 2 Broke Girls by watching her every week with his fiancé, Kenzie Dalton!
"I'm so happy everyone is finally seeing her work because she is amazing too," Chad said. "We've been watching her on 2 Broke Girls."
"I've been going on Twitter every week going, 'Guys, you have to watch 2 Broke Girls because it's incredible.' She's great on it."
You can find out more about Chad's book Everlast by going to www.derekeverlast.com.