NEWS
Chantal O'Brien Had a Hunch 'Bachelor' Brad Womack Chose Emily Based on the Sunset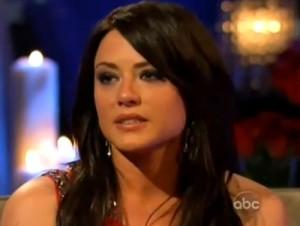 Chantal O'Brien is one of the most confident contestants in the history of The Bachelor, but even her confidence took a hard hit when she made a keen observation on proposal day. Today on Live! With Regis and Kelly, Chantal revealed the moment she knew Brad Womack was going to propose to her competitor, Emily Maynard.
"I felt pretty confident, but when I was in the limo driving up to the proposal site, I thought 'it's too early for a proposal — they usually do this at sunset,'"Chantal told Regis Philbin and Kelly Ripa, via Hollywood Life, of the anxiety she felt moments before she met with Brad for the final time in Cape Town, South Africa.
Article continues below advertisement
OK! NEWS: WATCH CHANTAL O'BRIEN'S TEARFUL GOODBYE — OPENS UP ON HER NEW MAN 'AFTER THE FINAL ROSE'
Chantal, a 28-year-old executive assistant from Mercer Island, Wash., was a frontrunner in the competition from the very beginning, when she slapped Brad across the faced on behalf of "every woman in America," on the season premiere.
"I've already gotten in trouble for all the violence so it's good I didn't go there," she joked with Kelly, who quipped that she must have felt like "kneeing Brad in the crotch" after he ended their relationship.
So does Chantal, who is happy with a new man, think Brad and Emily, a 24-year-old single mom, will make it?
"I think it's really hard to be in that position," she shared. "I hope it works out, but I don't know. They obviously have something."