NEWS
Characters Played By The Ladies of 'Sex And The City' That Are Totally Unlike Their Characters on 'Sex And The City'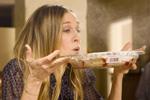 As you know by now, today is the 15th anniversary of the first-ever episode of Sex And The City. Feel old yet? But we're here to remind you that Sarah Jessica Parker, Cynthia Nixon, Kim Cattrall and Kristin Davis are not Carrie, Miranda, Samantha and Charlotte in real life, guys. Nope. Take a look at these video clips of the gals taking on other roles that are nothing like their roles on SATC. Well, except for SJP. All her roles are preeeeeetty much the same.
Article continues below advertisement
Photos: Hot Guys Who Guest-Starred on Sex And The City
Cynthia Nixon. On Sex And The City, Cynthia played a successful lawyer who fluctuated between long-term relationships (Steve, Richard) and flings (too many to name). But during her 2008 stint on Law & Order: SVU, Cynthia played a pathological liar who had multiple personality disorder. Miranda would definitely not be friends with that kind of crazy.
Kim Cattrall. To basically everyone ever, Kim will always be known as the sexually promiscuous and tell-it-like-it-is Samantha Jones, but in 2005, Kim played a mom to Hayden Panettiere's character in Ice Princess. A mom! Who wanted her daughter to win an ice skating competition! As if Samantha would ever want to have a kid. Or a husband, for that matter.
Article continues below advertisement
Kristin Davis. Kristin's most notable role outside of hers as the uptight, conservative Charlotte is probably when she played Jon Favreau's wife in the 2009 film Couples Retreat. The two went with a bunch of their friends to a resort where they engaged in couples activities to strengthen their relationship. Charlotte York would never do that! Instead, she'd just stay in a bad marriage for a while and then eventually walk away with a Park Avenue apartment as part of the divorce settlement. True story.
Sarah Jessica Parker. Even though SJP has tried so hard to take on roles that are nothing like her staple Carrie Bradshaw, we hate to say it but she is failing at that. Miserabley. In Did You Hear About The Morgans? her character travels to the woods, which reminded us of Carrie's trip to Suffern with Aidan. On Glee, she plays an editor at Vogue, a magazine which Carrie used to write for. And in I Don't Know How She Does It? her character is a mom, yes, but she's also a successful woman in New York City who does voiceovers and narrates to the camera. Hello! SATC season 1!