NEWS
Charles Gibson Stepping Down at ABC News; Diane Sawyer Stepping In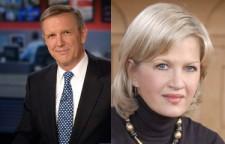 It's out with the not-exactly-old and in with the not-quite-new over at ABC News as World News anchor Charles Gibson announced today that he would be leaving the show after less than four years to be replaced by familiar ABC-er Diane Sawyer.
Gibson, who rose through the ranks at ABC News over the course of a nearly four-decade career took over the anchor chair at World News in May of 2006. He announced his decision to retire in a letter to the staff:
Article continues below advertisement
It has not been an easy decision to make. This has been my professional home for almost 35 years. And I love this news department, and all who work in it, to the depths of my soul.
Sawyer, of course, is the anchor of ABC's morning show Good Morning America. She's been with the network for over 20 years. She will take over the anchor position on World News in January.