NEWS
Charlie Denies Ditching Pregnant Wife to Party in Vegas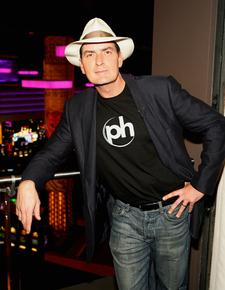 A scurrilous report in tabloid rag Star Magazine alleges that reformed Hollywood bad boy Charlie Sheen skipped out on his pregnant wife, Brooke Mueller, to partake in some "carrying on and boozing" in Las Vegas.
But according to a rep for the Emmy-winning actor, it just isn't so.
"Star Magazine never lets the facts get in the way of good hatchet job," says Sheen's rep Stan Rosenfeld in a statement to OK!. "Had the reporter bothered to check, he or she would have learned that the reason Charlie was in Vegas on Oct. 25 was for a contractual appearance on behalf of Planet Hollywood's Privé."
Article continues below advertisement
And, says Rosenfeld, the Star report, which claims that Charlie didn't return to L.A. until Oct. 28, also has their dates mixed up.
"Charlie was in Vegas only four hours," he explains to OK!. "He arrived and left the same evening. Star reporting of his alleged behavior is an inaccurate as the rest of their story."