NEWS
Charlie Sheen Apologizes to Americans for Public Meltdown on 'Today'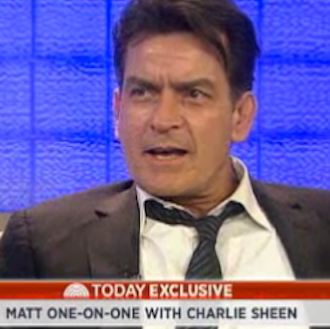 Oh what a difference a year makes!
Last year this time Charlie Sheen was ranting about "winning" and all of his goddesses, but on Today this morning, he sang a different tune. That is, he apologized to the country for his very public meltdown last year.
OK! NEWS: MARTIN SHEEN SAYS SON CHARLIE SHEEN IS "EMOTIONALLY CRIPPLED"
The former Two and a Half Men star talked about how he overcame his drug and alcohol problems. Charlie told Matt Lauer, "It was a team effort that was ultimately led by myself. There were not a lot of people close by saying, 'Dude, let's just take a step back.'"
Article continues below advertisement
Actually, in this honest interview, Charlie copped up to calling last year's "Torpedo of Truth" tour "cringeable." He pointed out that he doesn't "recognize part of who that was."
OK! NEWS: CHARLIE SHEEN & MARTIN SHEEN TEAM UP IN APOCALYPSE NOW SPOOF!
Moving on with his life and career, Charlie's going to star on Anger Management, which will premiere this June on an FX. While there isn't exactly a drug testing clause on set, there is a morals clause. He described, "As there are in any contract."
Ultimately during the interview, Charlie said he didn't have a plan for how to crawl out of the hole he dug for himself last year, but he pointed out, "I guess the plan was to reintroduce myself to America and to the media and say, 'Sorry about that, but here's what's happening now.'"
Catch the entire clip over at NBC!