NEWS
Charlie Sheen Calls Ashton Kutcher's 'Two and a Half Men' Debut 'Terrific'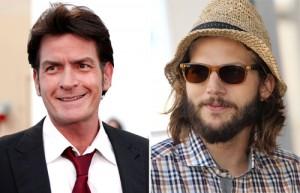 Charlie Sheen was one of the record 27.8 million people who watched Ashton Kutcher's hotly anticipated Two and a Half Men debut performance last week, and the former star of the show, who was infamously fired from his role as Charlie Harper (for which he was compensated $2.5 million salary per episode), opened up about Ashton's premiere.
"It was a big night for everybody on Monday night — for Two and a Half, for us, for me," Charlie told Access Hollywood. "I think everybody won. I thought the show was really good. I thought Ashton was terrific."
Article continues below advertisement
And despite dubbing his former costar and pal Jon Cryer a troll earlier this year, Charlie had nothing but positive things to say about his performance on the season nine debut!
"Jon is Jon. He's a freaking genius," Charlie said. "I think the show has got a real shot. It felt like a pilot. It felt like a really good pilot."
He added. "It was a little bizarre watching it, but yeah, for the most part I was really impressed with what they did."
Charlie's Comedy Central roast aired the same night and raked in a 6.4 million viewers, setting its own record as the most-watched roast of all time for the network.