NEWS
Charlie Sheen Inspires New McDonald's Menu Item, the "McWinning" Sandwich?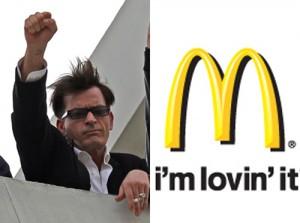 Looks like McDonald's may be capitalizing on Sheen Mania. America's No. 1 fast food restaurant has recognized the public's fascination with Charlie Sheen and has a plan to include a piece of the "epic" star on it's menu, with the McWinning sandwich!
Charlie re-Tweeted the following McDonald's Tweet:
While this all may be a joke, we found it pretty funny and have a feeling Charlie wants it to happen as he re-Tweeted the "McWinning" for his 2 million plus followers to see.
Article continues below advertisement
Wonder if the McDonald's creation would have Tiger Blood sauce as well?
Tiger Blood cocktails have become the rage since the 45-year-old actor's "Sheenism" tiger blood hit airways!
"Winning" however is definitely the most beloved Sheenism and we bet it would get some McLovin'! Would you try it out for the name alone? Share your thoughts in the comments!