NEWS
Charlie Sheen Prepares for Final 'Sheen's Korner' Broadcast: "The Warlock is Hungry"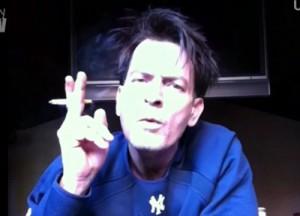 According to his Twitter, Charlie Sheen is already putting an end to his live UStream webcast, Sheen's Korner. But, in true Charlie fashion, the actor will go out with a bang in his final episode tonight, "Building the perfect torpedo."
Charlie took to his Twitter to remind fans to tune into Sheen's Korner tonight, writing:
Looks like another "tiger blood" fueled rant is coming our way.
Article continues below advertisement
Brad Wyman, director of programming for WyTv, the LiveStream online TV Channel which broadcasts Sheen's Korner, followed up Tweeting, "Final Broadcast of Sheen's corner tonight 7pm ustream.tv/charliesheen - live on @ustream"
So why is Charlie's webcast, which set a Guinness World Record for attracting 100 million views in two nights, coming to an end?
We aren't sure? Maybe the 45-year-old actor had enough or maybe he was forced to stop.
Will you be tuning in to the final installment tonight? Are you sad to see it end? Share your thoughts in the comments!