NEWS
Charlie Sheen Says "It's Been Awhile" Since He Used Drugs & He's Now Focused on Family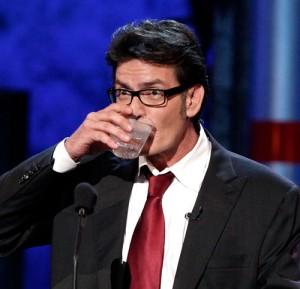 Charlie Sheen has had a lifestyle overhaul since his media bender earlier this year. In an intimate interview with Matt Lauer, Charlie opens up about his "Winning" time in the spotlight, being sober, calmer and shifting his focus on family.
The 45-year-old actor was fired from his role on Two and a Half Men (for which he was the highest paid actor on TV raking in 2.5 million per episode) after a public feud with show creator Chuck Lorre, causing his popularity to skyrocket with the American public.
Article continues below advertisement
VIDEO: CHARLIE SHEEN & MARTIN SHEEN TEAM UP APOCALYPSE NOW SPOOF
Charlie tells the Today show host that things have slowed down in his life over the past couple of months.
"I don't really know what happened" Charlie says of his media bender, via Radar Online. "It was one of those things where the planets were aligned, perfectly or imperfectly.
"I said some stuff and then it caught such traction globally and instantly that I couldn't really put out the fire ... from one moment to the next, I didn't know what was going to happen — it was pretty exciting."
What about all those Sheen-isms that took the Twitterverse by storm — "Winning!" "Tiger Blood" and "Vatican Assassin"...
"I don't know, the Tiger Blood, it was so silly and people took it so seriously and I figured, alright, I'll continue to give the people what they want, you know," Charlie explains.
Charlie also revealed that he is "absolutely" sober and "it's been awhile" since he used any drugs.
Article continues below advertisement
Now that things have calmed down, the actor wants to focus on his family and make amends with his ex-wives Denise Richards and Brooke Mueller.
"I'm seeing my kids a lot more, mending fences with Denise and Brooke, just trying to move forward and prioritize what matters," Charlie shares. "I think that's where the life is, you know, it's in those quiet moments. It's not the giant TV deal or the big party or the award or whatever, it's the memory of your child's smile at the end of the day that sort of brings that one lonesome tear, you know?"
Catch Charlie's interview with Matt Lauer on Friday on Today and his Comedy Central roast Sept. 19 — the same night that Two and a Half Men Season 9 debuts with Ashton Kutcher — at 10 p.m.