NEWS
Charlie Sheen Says Jon Cryer Is "With the Trolls"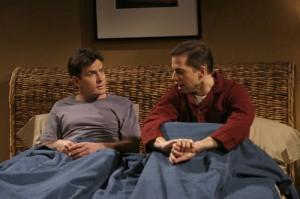 Article continues below advertisement
"You'll find out more tonight on the show," he added about his upcoming Sheen's Korner episode. "I'm busy writing my manifesto from now until then."
But he didn't actually stop there.
"Jon has not called me. He's a turncoat, a traitor, a troll. Clearly he's a troll," Charlie said. "He issued a statement. Is it gonna take me calling him a 'traitor, juvenile and scared' for him to get it?"
However, Charlie must be mistaken because Jon has not issued any statements aside from appearing in a sketch about his unemployment on The Ellen DeGeneres Show.
OK! VIDEO: WATCH JON CRYER MOVE PAST CHARLIE SHEEN WITH A NEW GIG!
But what if Jon does reach out to him now that he's been called a "traitor?"
"What's there to say? I'll tell him 'You're a little late. Goodbye, troll,' " Charlie said. "When I'm starring in multimillion-dollar films and he's begging me for a supporting role, I'll say, 'You left me out in the cold with all of your guilt and stupidity.' "