NEWS
Charlie Sheen & Snoop Dogg Collaborate "To Rock the Sheenius Within"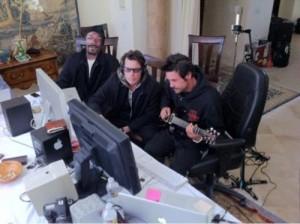 Charlie Sheen is bringing out all the big guns for his "My Violent Torpedo of Truth/Defeat Is Not an Option" live show. The 45-year-old unemployed actor took to his Twitter account this weekend to share a picture and this time he wasn't accompanied by his usual goddesses, but a dog. And no, it wasn't his pug.
Charlie shared a pic of former Korn touring guitarist Robert Patterson (who is married to Carmen Electra) and rap legend Snoop Dogg!
Article continues below advertisement