NEWS
Charlie Sheen on "Stone Cold Hammer" Denise Richards: "Why Did I Leave Her?"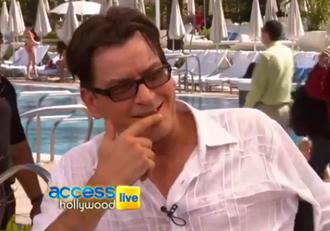 Charlie Sheen is moving forward from his days on Two and a Half Men and looking forward to his return to TV with his upcoming FX show, Anger Management. But that doesn't mean Charlie has completely let go of some things from his past.
Charlie and his ex-wife Denise Richards are on very good terms right now and even went on a "modern family vacation" together with their children.
OK! NEWS: CHARLIE SHEEN TALKS ABOUT TWITTER SNAFU & HIS ADVICE FOR ASHTON KUTCHER
Article continues below advertisement
"It was fabulous. It was one of those trips that reestablished what should have been in place a long time ago. But things happen when they're supposed to," Charlie told Access Hollywood. "I came home with like a whole new family."
What does he think of Denise now?
"She's really fabulous, best mom in the world," he said calling her a "stone cold hammer." "I'm like, 'Why did I leave her?' Oh right, she left me!"
OK! NEWS: CHARLIE SHEEN SHARES PHOTO FROM HIS MODER FAMILY FAMILY WITH DENISE RICHARDS
He did say his days of "Tiger Blood" and "Winning," however, are definitely done.
As for the ladies in his life? Charlie says he's currently single, but looking to cast the lead female part in his FX show.
"Selma Blair is a strong frontrunner. She's a very special lady and is as pretty as the day is long and has never really had the opportunity to do something where she can shine, because off camera she's hilarious," he said "I think she's one of the prettiest women in Hollywood."
Wow, such nice things to say about both Denise and Selma!