NEWS
Charlie Sheen Taking His Tour to Haiti With Help From Sean Penn?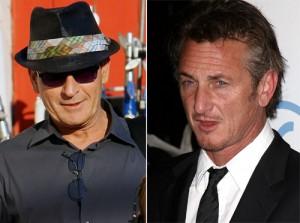 Charlie Sheen's plan to take his "My Violent Torpedo of Truth/Defeat Is Not an Option" live show international is well underway. Who will help the 45-year-old actor with his latest endeavor? Sean Penn. The Oscar-winner and activist is allegedly working with Charlie to bring his comedy show to Haiti.
According to TMZ, Charlie's upcoming tour will make a stop in Haiti, where all the proceeds will go to charity.
Article continues below advertisement
OK! NEWS: MARTIN SHEEN SAYS SON CHARLIE SHEEN IS "EMOTIONALLY CRIPPLED"
The Haiti show would also mark the end of Charlie's tour.
The report also says that Charlie "is enlisting the help of the unofficial president of Haiti, Sean Penn."
Charlie is donating one dollar of each ticket sold to the devastation in Japan and is also selling raffle tickets to raise money for charity.
Do you think Haiti will welcome the warlock with open arms? Share your thoughts in the comments.