NEWS
Charlie Sheen Talks Foot Fetishes and Denise Richards With 'Rolling Stone'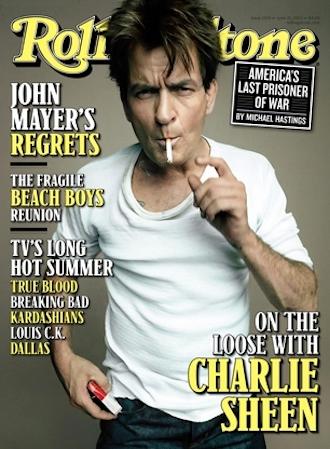 Article continues below advertisement
"I've not dated girls because of their feet, just the length of certain toes and the shape of where things should be and they're not," he snipes. "Hammertoes are bad. And the second toe being too long? That's bad, too."
Not bad? Vodka. Straight up. Sobriety just ain't Charlie's thing.
"I don't see what's wrong with a few drinks. What's your drink? Tequila? Mine's vodka. Straight, because I've always said that ice is for injuries, ha ha."
When the topic of his once estranged ex-wife, Denise Richards, is broached Charlie gets misty-eyed, saying he'd love a night in bed with her and sometimes it's "tough" when they vacation together with the kids.
OK! NEWS: CHARLIE SHEEN WEEKEND TWEET ROUND-UP — ACTOR REACHES 3 MILLION FOLLOWERS!
"We sleep in separate rooms," he says carefully. "Everybody's going to want to know that, too."
While the wound from his divorce may have finally healed, one severed relationship that's still pretty raw is the one with his ex-boss, Chuck Lorre, who famously fired him last year.
"He's a low-rent, nutless sociopath," he says, adding that he's "no longer stuck on my shoe."
Thankfully, the star has inked a new deal, FX's Anger Management, which premieres on June 28, where it's rumored Denise will co-star.