NEWS
Charlie Sheen's First Tweet: Actor, With Help From Porn Goddess, Shares His Vice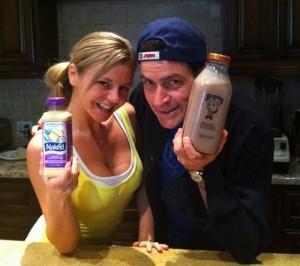 Charlie Sheen continues on his media bender, finally posting his first Tweet (to the delight of his 180,000 plus followers) with some help from his porn star goddess, Rachel Oberlin (aka Bree Olson). So what did the chatty actor have to say? BONUS: He also included a Twitpic!
Charlie's first Tweet is already being described as "epic" and causing chaos in the Twitterverse.
The hashtag "Winning" gained momentum on Twitter in response to Charlie's epic exclamation of the term, which he uses at the end of many of his sentences.
Article continues below advertisement
And it looks like the 45-year-old actor has created a hastag of his own: #Chooseyourvice.
Judging by the Twitpic he posted with "Rach," natural fruit smoothies and chocolate milk are the vices at the Sober Valley Lodge, the name he has given to his L.A. mansion.
Looks like Tweeters, and the world, have adopted a new vice —Charlie's Sheen's Tweets.
What are your thoughts so far?